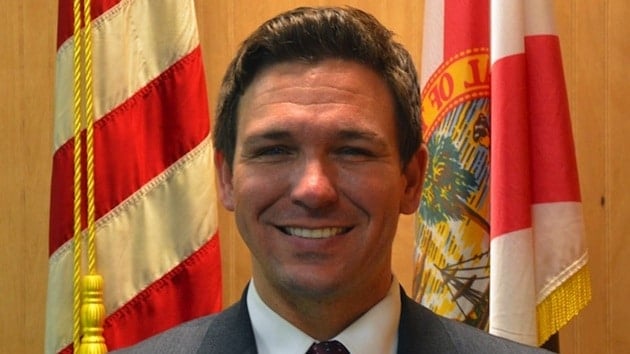 The entrance of Rep. Ron DeSantis, R-Fla., into the Florida Senate race gives the Republican Party an early edge in the election to replace Sen. Marco Rubio, who announced he is running for president. Rubio has kept his promise he made early in the cycle and will not seek reelection to the U.S. Senate and run for the Republican nomination, simultaneously.
Of course, DeSantis will have to secure the Republican nomination first. So, let's appropriately begin with the Republican primary field.
Florida Republicans are quick to point out to everyone that they have a very deep bench in the Sunshine State, unlike Democrats. The GOP controls a large majority of the U.S. House delegation, the state legislature and all but one statewide office. Sen. Bill Nelson, D-Fla., who is up for reelection in 2018, is the only Democrat to hold statewide office. However, Florida Chief Financial Officer Jeff Atwater, the only other candidate we believed could put together a primary coalition to challenge DeSantis, has decided against a run. Our sources told us this week in preparation for this expanded analysis article that this is not going to change, as he is already mulling a run for governor in 2018.
Lt. Gov. Carlos Lopez-Cantera, R-Fla., is more likely than not to enter the contest and pose a challenge to DeSantis. However, Floridians have not historically taken to lieutenant governors, as they have given them few post-tenure electoral successes. Other potential primary challengers include Rep. Tom Rooney, Rep. Vern Buchanan, ex-state Speaker of the House Will Weatherford, and former Sen. George LeMieux.
LeMieux, who was appointed by then-Gov. Charlie Crist to serve out the remainder of former Sen. Mel Martinez's term in 2009, has expressed interest in a Senate bid. He stepped aside knowing that Crist would run for the seat himself in 2010, but Rubio badly defeated Crist in the GOP primary before Crist broke his promise and decided to run as an independent. LeMieux flirted with a Senate bid in 2012, but he dropped out before the GOP primary. Because he has never proven himself a formidable candidate in either the GOP primary or a statewide bid, we don't see him as a threat to DeSantis.
We believe that the comparison of DeSantis to former Rep.-turned-Sen. Tom Cotton, R-Ark., is a correct comparison to make for two main reasons. First, both men are Ivy League veterans seeking higher office from the House of Representatives and both represent(ed) districts that are pivotal to their party's statewide electoral success. We were always more bullish on Mr. Cotton in 2014 than other election projection models, despite erroneous polling and pundits suggesting the contrary. The fundamentals strongly favored Mr. Cotton and he represented the 4th Congressional District in Arkansas, which sat largely in what used to be a swingy region of the state, where defeated Democrat Sen. Mark Pryor had outperformed past Democratic candidates. Taken together with a strong candidate that wasn't likely to scare swingy suburban voters, Sen. Pryor always had little chance of holding on.
We foresee a similar dynamic if DeSantis is the nominee, which we expect him to be. Let's take a look at his support — continuing with our comparison — before moving on to the maps.
Immediately after Rep. DeSantis made his announcement, PPD received emails from conservative groups endorsing DeSantis, whom they had hoped would run. Senate Conservatives Fund, the Club for Growth (DeSantis has a 95 lifetime rating), FreedomWorks and Madison Project, all have begun raising money on his behalf in an effort that is very reminiscent of Cotton's early coalition.
"I am honored to have the support of conservatives in Florida and across the country who believe we need to provide opportunity for all Americans," Rep. DeSantis emailed PPD in response. "Floridians are hurting because of President Obama's failed economic policies, which have stimulated Washington, D.C. but have made it harder for the middle class to get ahead and stay there. The support I hope to receive from grassroots conservatives will be critical for getting my message out across the state of Florida."
While that is all well and good, as it will likely discourage other primary opponents, we see the potential in DeSantis to put together the various wings of the party akin to Sens. Tom Cotton, Joni Ernst and Cory Gardner. Grassroots support is fantastic, but you must perform in the I-4 corridor if you hope to win statewide office in Florida. Democrats, including Sen. Bill Nelson, defeat Republican candidates in the state by running up their margin in the Southeast part of the state, while holding down Republican support in the I-4 corridor, plain and simple. That takes a particular kind of Democrat, as we will now see.
Sen. Bill Nelson won the 2012 Florida Senate race with 4,523,451 votes, or 55.23 percent, against Rep. Connie Mack, who received an unimpressive 3,458,267, or 42.23 percent. Below is a county-by-county heat map showing the margins in the 2012 Florida Senate race between Nelson and Mack.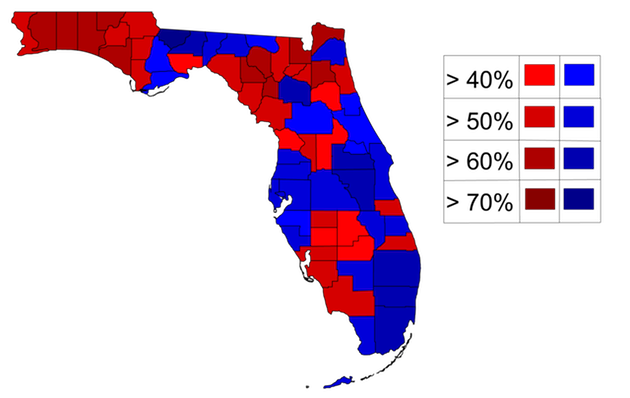 A few things should immediately jump out at you. First, Mack performed very poorly in the I-4 corridor and in counties that are traditional Republican strongholds. Further, with President Obama on the ballot in 2012, turnout and margins for Democrats in the Southeast were very impressive. By comparison, Sen. Rubio won all but five counties in 2010. But there's another element to this picture that cannot be fully appreciated until we compare it with the following image below.
This is Florida's 6th Congressional District in the northeastern part of the state near Jacksonville. Take a wild guess who represents the district. That would be Rep. Ron DeSantis, who in the same year, which was not a very favorable election cycle for Republican candidates, defeated Democrat Heather Beaven with over 57 percent of the vote. In 2014, DeSantis cruised to reelection with 62.5 percent of the vote, or roughly 70,000 votes, which coincidentally was Obama's margin over Romney. Though he would have to outperform Mack in more than just the 6th Congressional District, a 36-year-old Ivy League Iraq War veteran is just the candidate to do it in this state.
That's even more likely when we factor in the Democratic field.
Rep. Patrick Murphy, D-Fla., who represents the swingy 18th Congressional District, was the first to declare he will seek the seat. Murphy, a former Republican, is somewhat of a centrist and has significant establishment support. But he very well may have to fend off a challenge from the uber-liberal and controversial Rep. Alan Grayson, who represents the 8th Congressional District. This would turn the Democratic primary into an ugly and expensive setback for the party, which has moved decidedly left in recent years. In fact, if Grayson does run, there is a serious possibility that he could be the nominee, which would make the Republican nominee a likely favorite in the general election.
While Murphy is the sort of moderate Democratic candidate who historically has had electoral success in Florida, he is not a very good candidate. Sen. Bill Nelson, in contrast, is somewhat moderate but also very likable. And Floridians like him. Further, he enjoyed President Obama's coattails in the Southeastern Democratic stronghold, which other white Democrats have not been able to replicate. We saw this on full display during the 2014 gubernatorial contest — first in the primary and then in the early voting data — when Obama essentially gave Crist his entire turnout operation. Against polls and pundits, we argued the data and fundamentals indicated the Obama GOTV operation would not produce for Crist.
It didn't. And Crist lost against the unpopular Gov. Rick Scott, albeit narrowly.
As of now, or at least until we see evidence to the contrary, the Florida Senate race is rated Leans Republican on PPD's 2016 Senate Election Projection Model. The likelihood of a Republican victory is 54 percent.
Race ratings for our 2016 Senate Elections Map are determined by PPD's comprehensive election projection model that includes several variables, including but not limited to polling; weighted to value based on pollster accuracy, or the PPD Pollster Scorecard; state demographics and political leanings, including Partisan Voting Index (PVI); candidate ideology juxtaposed to party ID and voter registration in a particular state; party ID and voter registration trends separate from other variables; candidate recruitment and strength, factoring in experience, GOTV and campaign organizations; the national political environment, or voters' sentiment toward each party; the ever-important variables of the economy, both state and national; and, of course, presidential approval rating in both state and national polls.