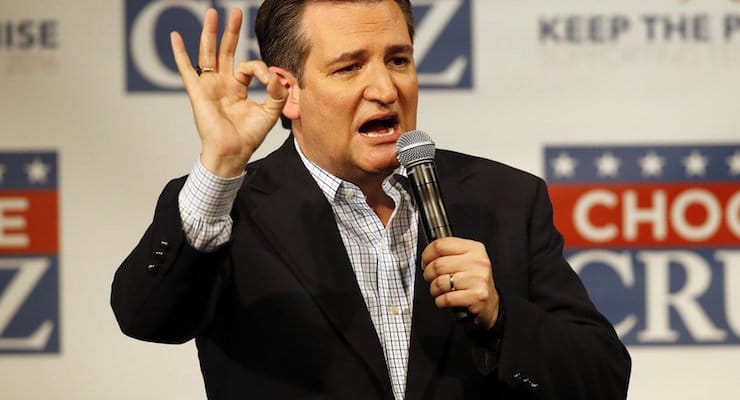 Texas Sen. Ted Cruz on Saturday was awarded all 14 delegates at the Wyoming GOP convention, where the party essentially chooses the delegates to support a candidate. However, while Wyoming is the second contest in a row where backing from the party and a superior ground game has shut out Donald J. Trump and Ohio Gov. John Kasich, the frontrunner's closest rival is likely to have a terrible month in April.
"We are likely to have a battle in Cleveland to decide who is the nominee," Cruz told party members before they picked the delegates. "If you don't want to see Donald Trump as the nominee, … then I ask you to please vote for the men and women on this slate."
Mr. Trump, who did not actively campaign in either state convention contest, is at or above the 50-percent threshold in the next four contests, and recent polls have shown him just under a majority in California. The Golden State, which votes on the very last day of the primary season, will be pivotal in deciding whether the Republican Party's nominee will have to be decided at a contested convention.
Lyin' Ted Cruz can't get votes (I am millions ahead of him) so he has to get his delegates from the Republican bosses. It won't work!

— Donald J. Trump (@realDonaldTrump) April 17, 2016
"Candidates that have allies that are party insiders have advantages in states that have a pyramid process of selecting their delegates," Alan Cobb, senior Trump advisor said about Colorado and Wyoming. "These folks have worked this process for years."
The New York Republican Primary will be held on Tuesday, where polls suggest Mr. Trump is poised to potentially sweep all of the Empire State's 95 delegates. If he wins over 50% of the vote, he'll be the first Republican presidential candidate to do so in his own home state.