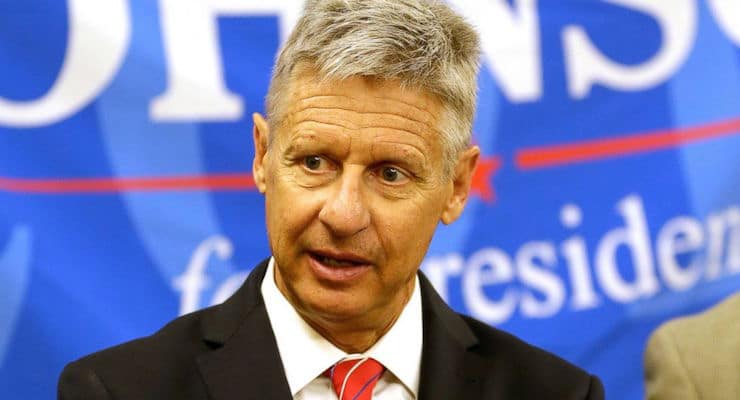 Former New Mexico Gov. Gary Johnson has won the Libertarian Party nomination for president. Hoping to emerge as a viable contender against the two major parties' nominees in the general election, Gov. Johnson says his strategy will consist of tapping into the historically high unfavorables for Donald Trump and Hillary Clinton.
Still, Gov. Johnson also had to contend with challengers from more purist wings of the Libertarian Party, falling five votes short of winning the 463 delegates needed for the nomination on the first ballot at the party's national convention. When delegates voted for a second time, Gov. Johnson was able to secure the majority he needed (55.8%).
Gov. Johnson defeated five hopefuls to secure his place on top of the Libertarian ticket, which will likely be the only third party on the ballot in all 50 states.
Delegates have yet to vote on Johnson's hand-picked vice presidential pick, former Massachusetts Gov. Bill Weld. Many Libertarians here are wary of Weld, who joined the party less than two weeks ago and endorsed Ohio Gov. John Kasich in the Republican primary earlier this election cycle.
Unlike the primary and caucus system used by the Republican and Democratic parties, Libertarian presidential candidates have spent much of the past week debating and wooing delegates, who were free to vote for whomever they choose at the party's national convention.
The Libertarian Party faces an uphill climb to become viable in the general election. A recent Fox News poll shows Johnson at 10% in a race against Trump and Clinton. However, public polling in general elections pre-Labor Day historically overstate the support of third party candidates and
Johnson was also the party's nominee in 2012, when he received 1 percent of the popular vote and became the first Libertarian presidential candidate to receive more than 1 million votes.