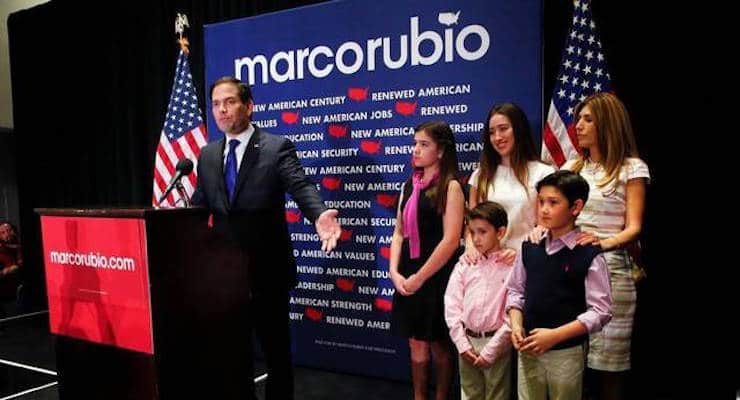 Conservative talk radio host Mark Levin endorsed the reelection bids of Sen. Marco Rubio and Rep. Ron DeSantis in two key races in Florida. A recent critic of Sen. Rubio during his failed bid for the Republican nomination, Mr. Levin now says "Rubio has a solid record" and echoed the praises from Texas Sen. Ted Cruz, a former presidential rival who also endorsed Rubio's bid for reelection.
"I support Senator Marco Rubio for reelection to the U.S. Senate as well," he wrote. "The Senator has reversed his position on whether or not to run again, and I see his change of heart as crucial to protecting, among other things, the Supreme Court."
Levin also endorsed in the U.S. House race for Florida's 6th Congressional District. Rep. DeSantis would've faced Rep. David Jolly, who represents the 13th Congressional District in the primary, had Rubio not changed his mind.
"He's running for re-election to the House, for which I endorse him," said Levin. "DeSantis is an outstanding public servant who deserves our support."
Rep. DeSantis, who was the grassroots favorite running to replace Sen. Rubio when he had said he wasn't going to run, responded to the endorsement via email to PPD.
"I'm proud to have the support of Mark Levin," said Rep. DeSantis. "Mark is a principled, articulate and effective defender of our Constitution. We're happy to add Mark's name to the long list of conservative leaders and groups who have endorsed our campaign."
DeSantis also enjoyed the support of the Club for Growth, who now back Sen. Rubio, as well. The group's president David McIntosh said they will continue to lend their support in his reelection in the 6th District.
"The Club for Growth PAC has been determined to keep this Florida Senate seat in the hands of economic conservatives since November 2014, when we first endorsed Senator Rubio's re-election," said Mr. McIntosh. "When Marco announced his retirement from the Senate and launched his presidential bid, the Club's PAC was quick to endorse Rep. Ron DeSantis, who has a 96% lifetime Club score."
Mr. Levin's endorsement really puts him at odds with the grassroots in the Sunshine State, who see Sen. Rubio as nothing more than an overly ambitious politician who failed to keep his campaign promise on immigration and other issues. It's not yet clear whether the endorsement will help Sen. Rubio or hurt Mr. Levin. Rep. DeSantis, on the other hand, is widely respected among the conservative base activists in the party.