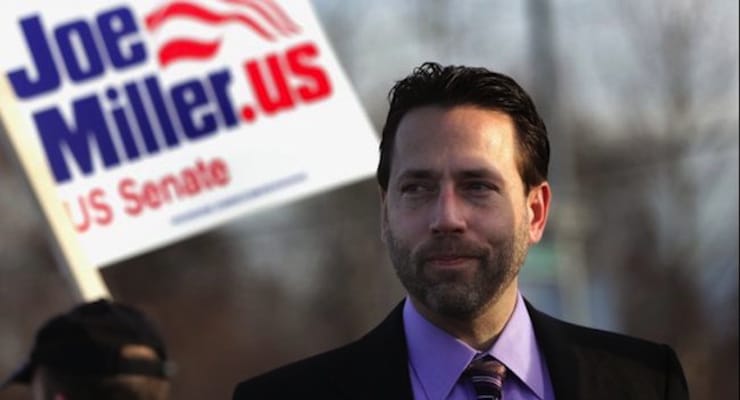 Conservative favorite and 2010 Republican nominee Joe Miller has filed to challenge incumbent Sen. Lisa Murkowski for the U.S. Senate in Alaska. The decision comes as Libertarian Party candidate Cean Stevens announced his withdrawal from the race. Considering his libertarian-leaning brand of conservatism, the board of directors of the Alaska Libertarian Party unanimously voted in favor to have Mr. Miller appear on the November ballot as their nominee.
"Alaskans deserve a real choice," said Miller. "The choice between a Democrat, a Democrat-backed independent, and a Republican-In-Name-Only – who has been one of Barack Obama's chief enablers – is no choice at all."
Mr. Miller, who won the 2010 nomination against Sen. Murkowski, would be the first third-party nominee to win a federal seat in decades. Enthusiasm has long-followed Mr. Miller and the data indicate the bid could be contentious. Despite the historically high turnout on the presidential level during the party primary, Alaska saw a near-historic low of only 15.4% turnout–with only 7.7% of Alaska's registered voters casting a vote–in the election for the incumbent senator in her primary.
Sen. Murkowski defeated Mr. Miller during her historic general election write-in candidacy in 2010, though it was under circumstances that were suspect. In 2014, he nearly took out two establishment favorites for the GOP Senate nomination, then-Lt. Gov. Mead Treadwell and former Natural Resources Commissioner and Attorney General Dan Sullivan. Then-AG Sullivan ended up only eking out a win that all the polls predicted would be a long-shot for Mr. Miller.
While most pundits and Washington insiders viewed Mr. Miller as the underdog in the race, and likely will again, they do so again at the risk of their own embarrassment. The Republican establishment has a history of soft support in Alaska–beginning with Sarah Palin and reinforced by Joe Miller during the tea party wave in 2010–which has only worsened in recent years.
"I am grateful to Cean Stevens and the Alaska Libertarian Party for their vote of confidence. It is humbling," Mr. Miller said. "They could not have been more gracious and helpful. This is an historic opportunity for liberty-loving Alaskans to lead this nation to a post-partisan future of limited constitutional government. I'm calling on all Alaskans of good will to join us in this effort. Together we can make history!"