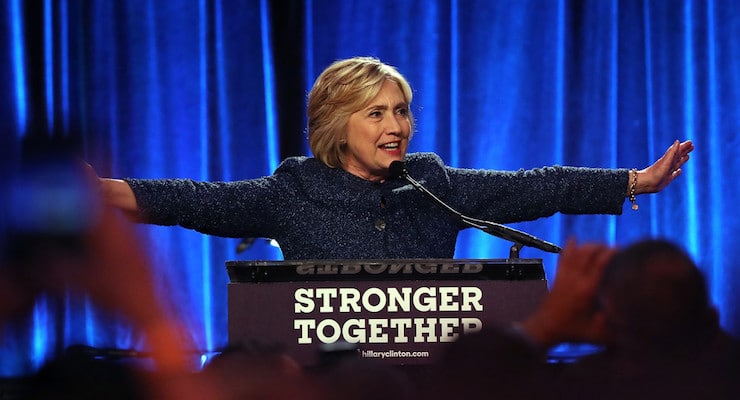 In a leaked audio from a private fundraiser event last February in McLean, Va., Democrat Hillary Clinton says she's "bewildered" by younger voters wanting free stuff. The audio comes to light as Mrs. Clinton gets back on the campaign trail with her former rival Bernie Sanders to tout debt-free college education. However, privately, Mrs. Clinton tells donors how she really feels about making such promises, as well as other progressive ideals championed by Sen. Sanders.
In the clip released by the Free Beacon, she said many of her former primary opponent's supporters want "free college, free health care," saying that she preferred to occupy the space "from the center-left to the center-right" on the political spectrum.
"There is a strain of, on the one hand, the kind of populist, nationalist, xenophobic, discriminatory kind of approach that we hear too much of from the Republican candidates," Mrs. Clinton said during the event hosted by former U.S. ambassador Beatrice Welters. "And on the other side, there's just a deep desire to believe that we can have free college, free healthcare, that what we've done hasn't gone far enough, and that we just need to, you know, go as far as, you know, Scandinavia, whatever that means, and half the people don't know what that means, but it's something that they deeply feel."
Younger, millennial voters that boycotted her and chose her rival in the Democratic primary are now largely behind third-party candidates.
Meanwhile, Mrs. Clinton also told supporters that she would likely roll back the Long Range Stand-Off (LRSO) missile program, a major upgrade to the United States' nuclear weapons program. "Will you cancel this program if President Obama doesn't in the next 11 months and lead the world in a ban on this particularly destabilizing, dangerous type of nuclear weapon?" Andy Weber, a former assistant secretary of defense who oversaw the Pentagon's nuclear weapons programs, asked at around 39:00 in the recording.
The former secretary of state responded that she was "inclined" to do so and "the last thing we need are sophisticated cruise missiles that are nuclear armed."
About 4:30 in, she begins to have another coughing fit before asking former Pennsylvania Gov. Ed Rendell to fill in for her until she stopped coughing.
The audio marks the second time in a month private comments made by the Democratic candidate indicating she looks down on or doesn't understand the problems and grievances of American voters. Last month, Mrs. Clinton said she put half of Donald Trump's supporters in what she calls "a basket of deplorables" filled with irredeemable people.