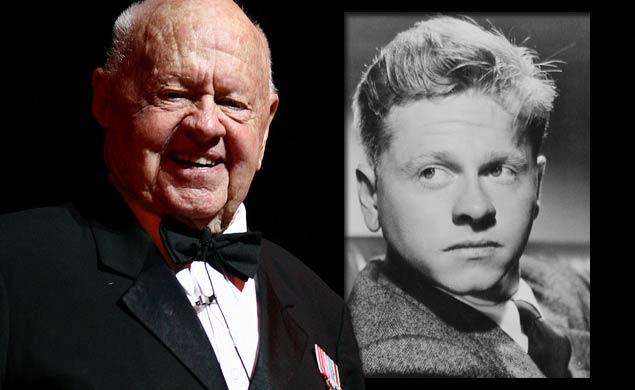 Legendary actor Mickey Rooney, who first saw a stage before the age of two and first won fame as the teenage Andy Hardy, died Sunday at the age of 93. The entertainment giant appeared in over 100 films, not counting his numerous stints on television and in the theater.
Los Angeles Police Commander Andrew Smith told the Associated Press that Rooney died at his home in North Hollywood, Calif. in the company of his family. Smith said police took a death report, but it was not a police case, suggesting the actor died of natural causes. Smith gave no additional details on the circumstances of Rooney's death.
Rooney was the consummate performer. "I've always enjoyed the lights of the theater," he wrote in his autobiography "Life is Too Short." "No wonder that even now, when I open a refrigerator door, I feel like performing."
Along the way, Rooney filled Hollywood headlines for marrying his eight wives, including the beautiful actress Ava Gardner. "Always get married early in the morning," he once quipped. "That way, if it doesn't work out, you haven't wasted a whole day."
Rooney had been married for 35 years to his last wife, Jan Chamberlin, who survives him. He also is survived by eight children after his ninth died in 2006.
Mickey Rooney was the last surviving big male star from the 1930s era. He was also one of the very few actors left who had gone from silent movies to 21st century films.
Born Joseph Yule Jr. on September 23, 1920 to vaudeville actors, Rooney literally crawled onstage at just 14 months-old, wearing a little harmonica around his neck, and his father scooped him up and introduced him to the audience as Sonny Yule. By 17 months-old, he was part of his parents' routine in a specially tailored tux.
By 14, he had changed his name to Mickey Rooney and signed with MGM Studios; three years later he landed the role of Andy Hardy in the 14-film series that brought him fame and an abiding friendship with Judy Garland.
"Judy and I were so close we could've come from the same womb," he once said. "…There was no love affair there, there was more than a love affair…It was a forever love."
His big break came in the form of his breakthrough role as a dramatic actor came in 1938's "Boys Town" alongside Spencer Tracy. In 1939, 1940 and 1941, he was the world's biggest box-office draw.
Some of his other well-known films were "National Velvet," "Breakfast at Tiffany's," "Requiem for a Heavyweight," "The Black Stallion" and "Night at the Museum."
Rooney won two Academy Awards (a 1939 juvenile award and a 1983 Honorary Award), an Emmy and two Golden Globes.
"I don't regret anything I've ever done," he once said. "I only wish I could have done more."