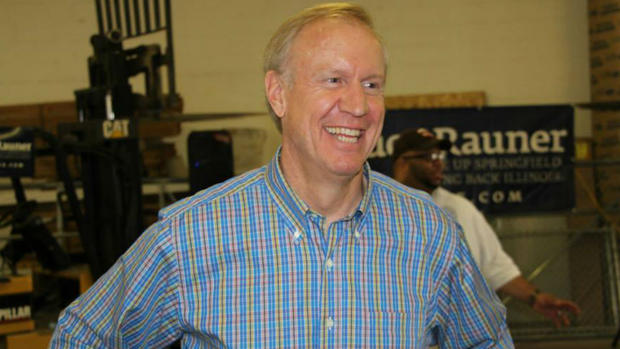 If Illinois Democrats endorse Bruce Rauner over Democrat Gov. Pat Quinn, then the incumbent would be in a lot more trouble than even we at PPD may have thought.
Former Kennedy administration official and Democratic activist Newton Minow, appeared on Thursday with roguhly a dozen other Illinois Democrats and independents to announce their endorsement of Republican Bruce Rauner in the Illinois Governor race, which we now rate "Leans Republican" on our 2014 Governor Map Predictions.
Minow, 88, an attorney and President John F. Kennedy's chairman of the Federal Communications Commission, said Rauner would be the bipartisan leader for what is now a centrist Midwestern state that needs him.
"President Kennedy once said, 'Sometimes party loyalty asks too much,'" said Minow. "I think this is one of those times. I'm a strong Democrat, but I'm taking a leave of absence from my party because Illinois is in desperate shape."
Minow said the state can change course with Rauner before it is too late, as pension to debt ratios threaten to overwhelm the state tied with Nevada for the country's second highest unemployment rate at 8.7 percent.
Rauner, a political newcomer, will face vulnerable incumbent Democratic Governor Pat Quinn, who took office in 2009 following the impeachment of Rod Blagojevich, another Democrat who is now in prison for corruption.
Rauner has avoided social issues in his campaign, and has opted instead to focus on the plethora of economic problems in Illinois, which is the adopted home-state of President Barack Obama.
Also appearing at the Chicago press conference was Manny Sanchez, an attorney who also served as a member of the Democratic National Finance Committee in the past, and Rauner's wife, Diana Rauner, who just happens to also be a Democrat.
"Bruce and Diana have a bipartisan home life," said Minow. "They'll also have a bipartisan administration. There won't be a big difference between Democrats and Republicans because the problems are too tough."
When asked if he would cut the number of state employees to reduce public spending, Rauner said the state's workers could be more productive and efficient through better use of technology, which he said is "woefully behind" other states and the public sector. And he is correct to make that assessment.
The contest between Gov. Pat Quinn and Bruce Rauner will be a tough and expensive contest, because Rauner has taken a strong stance against labor unions' power in state government, which is fueling an inevitable Detroit-like bankruptcy. Unions say they back Quinn's candidacy, however, they opposed a pension reform bill he supported.
A spokesman for Quinn's campaign was not immediately available for comment, so it is unclear whether or not he would change course regarding his campaign strategy. The fact that Illinois Democrats endorse Bruce Rauner has shaken the Quinn campaign, likening the situation to New Jersey Democrats who endorsed Gov. Chris Christie in his big reelection win.
Gov. Pat Quinn recently told Lynne Sweet of Illinois' preeminent political blog, Capitol Fax, that he "sees no need at this stage to put together a data-digital-social media-driven operation that is the hallmark of many campaigns because, he told me, he has an army of foot soldiers."