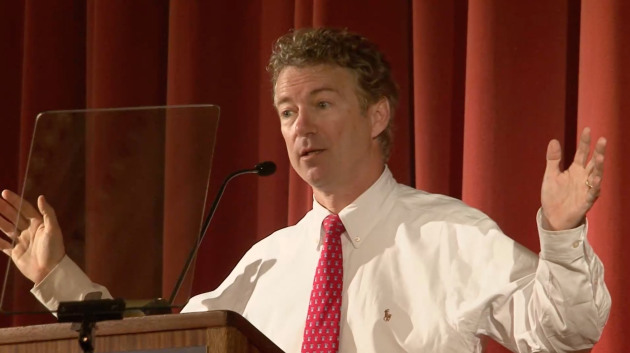 Two days ago, libertarian-leaning Republican Senator Rand Paul (R-KY) spoke at UC Berkeley, an event that was hosted by the Berkeley Forum student organization. Senator Paul fired up the crowd when he spoke about his class-action lawsuit against the Obama administration and the National Security Agency.
Up until now, the Democratic Party has been able to reconcile the oxymoron that logically becomes apparent when a party promoting big government also tries to claim they stand for civil liberty. This oil and vinegar mixture was exposed when the NSA spying program was blown wide open by Edward Snowden. Now, the likes of Senator Dianne Feinstein (D-CA), who voted in favor of John Brennan while Paul was filibustering his nomination over the drone program, has tried to come out against domestic spying.
Paul wasn't buying it.
"I don't know about you, but I'm worried. If the CIA is spying on Congress, who exactly can or will stop them? I look into the eyes of senators and I think I see real fear. Maybe it's just my imagination, but I think I perceive fear of an intelligence community drunk with power, unrepentant, and uninclined to relinquish power," Senator Paul said.
The UC Berkeley appearance is just the latest speech in what has been a concerted effort by Senator Rand Paul to introduce the liberty message to voters who typically do not support the Republican Party. Paul, unlike many other Republicans, has been working tirelessly to expand the reach and appeal of the party, hoping to move the party toward a more mainstreamed, liberty-based message.
Paul also reached out to inner-city minority voters in Detroit, Michigan, back in December, when he introduced an economic plan to bring prosperity and stability back to downtrodden neighborhoods who have been failed by progressivism.
What Rand Paul is doing is politically significant, and would have much more weight behind it if it was a mainstream Republican Party plan. While the party has been closing the tech and talent gaps, and also increasing appeal among minorities, Paul is setting the parameters of what could be a model template for the party. The groups targeted by Paul all have one thing in common.
All of these groups have been taken for granted by the Democratic Party. Alongside domestic spying, ObamaCare and the inevitable economic reckoning fueled by national debt, has thrown the younger generations under the bus. Big government policies have ensured future generations must pay for the decisions Obama and Democrats didn't have the courage to make.
However, whether or not the Republican Party can be successful in getting younger Americans to understand this and who is to blame, remains very uncertain.