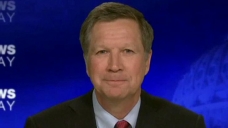 Gov. John Kasich (R-OH) appeared on Fox News Sunday with Chris Wallace to discuss the Ohio economic turnaround under his governorship. With a 6.5 percent unemployment rate, Ohio leads the Midwest in job creation and is number five in the nation.
When Gov. Kasich took over the helm in the Buckeye State, following his 2010 electoral victory over incumbent Democratic Gov. Ted Strickland, the unemployment rate in Ohio was over 10 percent. The state was drowning in an $8.5 billion deficit, but under the former congressional budget wonk that has turned into a $1.5 billion surplus.
Still, his Democratic opponent, Cuyahoga County (Cleveland) Executive Ed FitzGerald, has fallen back on the typical Democratic class warfare rhetoric, accusing Kasich of implementing economic policies that favor the wealthy.
"Look, you posted the numbers and the proof is in the pudding," Kasich said, likening his economic philosophy that led to the dramatic turnaround in Ohio to the same policies under former President Ronald Reagan. He added that "like Ronald Reagan, we know that some taxes penalize economic growth and some encourage economic growth." Kasich noted that his new proposed tax plan increases the earned income credit for lower income Ohioans, while cutting the state income tax to encourage investment.
Though he repeatedly compared his policies to the former president and Republican standard-bearer, the governor insisted he has no plans to run for president in 2016. He joked that when he ran for president in 2000, "no one wanted to talk to me. Now, that's all anyone wants to talk about."
Gov. Kasich said his focus is on Ohio, and while he refused to sign a pledge posted on FitzGerald's website, which would bind all signers to serve a full term in office, he stated his first priority was getting reelected and finishing the job of "making the Buckeye State number one" in the country.
Kasich is favored to win reelection in 2014 and the Ohio Governor race is currently rated "Likely Republican" on our 2014 Governor Map Predictions.
The latest Quinnipiac University Poll has Kasich leading FitzGerald by five points, but other surveys have found a larger margin. He is supported by a healthy majority of independents, but has yet to coalesce the right completely, largely because of anger over his decision to take federal dollars for Medicaid expansion.
Answering the critics, who say refusing to set up a state-based exchange while taking the federal money, Kasich said that he could have left the money in Washington or brought it back to the state. He said, because he was up there for 18 years, he knows the money would be put to better use by the state of Ohio. He plans to use the money to help those suffering from drug addiction and mental health illnesses get back "into the mainstream and give them a chance to achieve their God-given potential."
Kasich joins a growing list of Republicans who support policies that would reduce the criminalities of drug use. "Those people should not be sitting in our prisons, that's just unconscionable," he said.