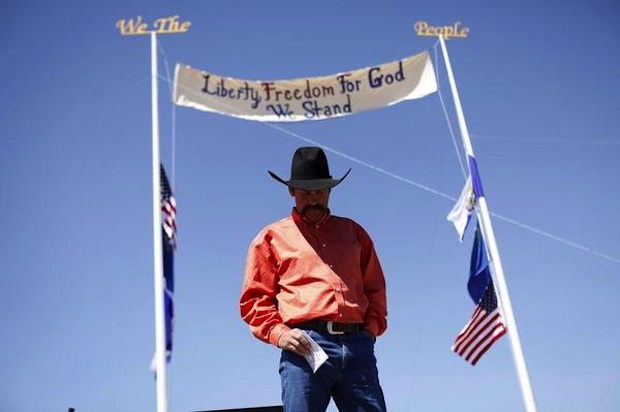 UPDATE: The Bureau of Land Management announced Saturday that it has ended its effort to remove "tresspasse cattle" from a Nevada ranch after a tense week-long standoff with Cliven Bundy and militia supporters.
Nationwide outrage over the ongoing standoff between the Bureau of Land Management and a Nevada rancher is not only escalating, but spreading. Now, a recent report from a government watchdog group showing an extraordinary amount of federal agencies arming up is receiving new attention.
The federal government says Nevada rancher Cliven Bundy owes them more than $1.1 million in unpaid grazing fees for allowing his cattle to graze on property his Mormon family settled in the 19th century. Supporters began to assemble at the Bundy ranch near Bunkerville, Nevada, which quickly escalated into a confrontation between civilians and armed federal agents.
Millions of Americans nationwide were astonished and angry that police from the Bureau of Land Management used stun guns on Dave Bundy, who is Cliven Bundy's adult son, during a Wednesday confrontation on a state highway near the Bundy melon farm in the Gold Butte area. The video — viewable below — went viral and mobilized an untold and unknown number of militia men throughout the West.
The dispute began in 1993, when citing a federally protected tortoise, the Bureau of Land Management began requiring Bundy to pay for grazing rights. It was only after Mr. Bundy declined to continue to pay for future grazing right that the federal government revoked his license. Consequently, the desert tortoise was targeted by the very same agency in 1991, citing over population. With enough money, contractors are still able to obtain a license to hunt the desert tortoise, thus any media report that cites a "save the tortoise" narrative is patently false.
The roundup started Saturday, after the BLM and National Park Service shut down an area half the size of Delaware so that contractors in helicopters and vehicles could round up about 900 so-called "trespass cattle," as officials call them.
Amy Lueders, BLM state director in Nevada, said 380 cows were collected by Thursday, though she would not give us a taxpayer cost for herding the animals. At nearly $1,000.00 per cattle, the financial cost to Cliven Bundy has been high.
The standoff has sparked a debate about states' rights and federal land-use policy, but has also reopened debate about the massive arming of federal agencies that seemingly have zero need for armed agents. A recent report from Watchdog.org listed the names of federal agencies who possess special agents and other armed personnel, and it is shocking.
NOAA, for instance, the agency that forecast the weather, monitor the atmosphere and study the oceans and waterways has a budget of $65 million and employs 191 people, to include 96 special agents and 28 enforcement officers who carry weapons. The EPA, the agency now in the process of what many call a power grab, as well as exposing citizens to harmful substances in testing facilities without disclosing health risks, currently has over 200 special agents and swat teams.
The Environment Protection Agency recently raided an Alaskan village with a population of seven people without giving a specific cause. Among the federal agencies arming up is the Department of Education, who recently raided a California home over alleged student grant violations. They were forced to defend a gun and ammunition purchase back in 2010, but said only that the weaponry was needed to stop "waste, fraud, abuse, and other criminal activity involving Federal education funds, programs and operations."
"There's no question there's been a proliferation of police units at the federal level," says Tim Lynch, the director of the Project On Criminal Justice for the Cato Institute. "To me, it's been a never-ending expansion, a natural progression, if you will, of these administrative agencies always asking for bigger budgets and a little bit more power."
For many, the situation with Nevada rancher Cliven Bundy is a direct result of politicians carelessly allowing "bigger budgets and a little bit more power" over the decades. As Bundy takes a stand for property and privacy rights, the standoff stands as a sobering reminder that government grows at the expense to individual and, inevitably, our collective freedom.