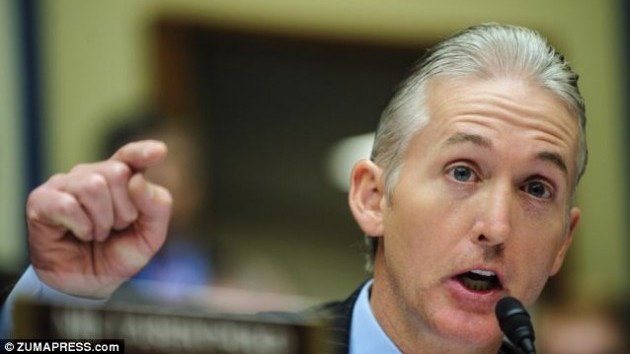 Rep. Trey Gowdy (R-SC) has been chosen to serve as chairman of a new House select committee tasked with investigating the 2012 Benghazi terror attacks. House Speaker John Boehner (R-OH) made the announcement Monday afternoon.
"With four of our countrymen killed at the hands of terrorists, the American people want answers, accountability, and justice," the Speaker said. "Trey Gowdy is as dogged, focused, and serious-minded as they come."
Earlier, it appeared that — though other names were being tossed around — the Speaker had already made his decision. "It's not done," said a senior congressional source. "But it's looking that way."
Gowdy is a former prosecutor for the District Attorney in South Carolina, and is widely praised within Republican circles for his competence in prosecuting evidence and willingness to pursue investigations that are otherwise being ignored in the media. Benghazi was one such investigation before last week.
Newly released emails, which were only obtained and published by the conservative watchdog group Judicial Watch as a result of a June 21, 2013, Freedom of Information Act (FOIA) lawsuit filed against the Department of State (Judicial Watch v. U.S. Department of State (No. 1:13-cv-00951)), tied top White House officials to the fabrication of the infamous Benghazi talking points.
The announcement by Boehner that a select committee will be voted on in the House was the second of a one-two punch delivered to the White House last week. The House Oversight and Government Reform Committee announced Friday it has subpoenaed Secretary of State John Kerry to testify about the new bombshell Benghazi documents at a May 21 hearing.
"The State Department's response to the congressional investigation of the Benghazi attack has shown a disturbing disregard for the Department's legal obligations to Congress," Chairman Darrell Issa (R-CA) wrote in a letter to Sec. John Kerry.
"Compliance with a subpoena for documents is not a game. Because your Department is failing to meet its legal obligations, I am issuing a new subpoena to compel you to appear before the Committee to answer questions about your agency's response to the congressional investigation of the Benghazi attack," he added.
While the special committee would still have to be approved by the House in a vote on the floor, the decision all but ensures its establishment and is widely expected to pass. The choice to name Trey Gowdy is already seen as a sign that House leadership is serious about pursuing an investigation in the Sept. 11, 2012, Benghazi attacks.