It has been just over a year since the NRSC, the National Republican Senatorial Committee, sent the IRS a Freedom of Information Act request for "any and all documents or records, including but not limited to electronic documents, e-mails, paper documents, photographs (electronic or hard copy), or audio files," pertaining to correspondences from January 1, 2009 and May 21, 2013 between thirteen different Democrat members of Congress and top IRS officials.
Yet, according to the NRSC, they have received no less than six letters — all regurgitating the same language and excuses from the last — requesting more time to fulfill the FOIA request. Each time, to include the most recent requested deadline of August 1, 2014, excuse letters have arrived from IRS Tax Law Specialists Robert Thomas or Denise Higley.
"I am responding to your Freedom of Information Act (FOIA) request dated May 21, 2013, and received in our office on May 30, 2013," Higley wrote in a letter to NRSC Attorney Megan Sowards last year, in response to the original request. "I am unable to send the information requested by June 27, 2013, which is the 20 business day period allowed by law. I apologize for any inconvenience this delay may cause."
It isn't too difficult to speculate what the IRS may be hiding considering the newly released documents obtained by Judicial Watch. The emails prove that the story President Obama told Bill O'Reilly back in February, 2014, was completely false, and that the IRS targeting of conservative groups came from Washington, not Cincinnati.
In an interview with Fox News' Bill O'Reilly (video included) viewed by millions of Americans on Super Bowl Sunday, President Obama said that neither he nor members of his administration lied about Benghazi or the IRS scandal, claiming the IRS targeting was simply the result of "bonehead decisions in local offices." The president made headlines when he said that "not even a smidgen of corruption" was involved.
However, just as in the case with Benghazi, the emails show the president wasn't telling the truth. Senator Carl Levin (D-MI), a fellow Democrat and Chairman of the Subcommittee on Investigations, corresponded with top Washington-based IRS officials throughout 2012, discussing how to target conservative groups who were working to fight the senator's and President Obama's reelection.
"Let me make it clear: These new documents show conclusively that officials in the Washington IRS headquarters were responsible for the illegal delays of Tea Party applications," JW President Tom Fitton said. "And they also confirm the unprecedented pressure from congressional Democrats to go after President Obama's political opponents."
In a move that has little chance of turning out to be a coincidence, Senator Levin unexpectedly announced his retirement just weeks before the IRS scandal made headlines. However, involved parties, to include Lois Lerner, had known the story was bound to break several weeks ahead of time, ultimately opting to plant a question during a Q&A lunch in the hope they could get out in front of the story.
And Levin wasn't the only Democrat directly communicating with the IRS.
Rep. Elijah Cummings (D-MD), the ranking member of the House Oversight Committee, also communicated back-and-forth with the IRS regarding the group True the Vote. The group focuses on voter fraud prevention, something Rep. Cummings has fought tooth and nail because, according to a claim he oft-repeats, voter fraud doesn't even happen. Worth noting, prior to these revelations, Cummings had repeatedly denied that he or anyone in his office had any contact with the IRS.
But it wasn't Levin or Cummings who were specifically named in the NRSC FOIA request, but rather embattled Democrats who still have to worry about answering to voters.
Several members of Congress were named in the request, including Sen. Schumer (D-NY), Sen. Reid (D-NV), DSCC Chair Sen. Bennet (D-CO), Sen. Landrieu (D-LA), Sen. Pryor (D-AR), Sen. Hagan (D-NC), Sen. Begich (D-AK), Sen. Shaheen (D-NH), Sen. Mark Udall (D-CO), Sen. Franken (D-MN), Sen. Warner (D-VA), Rep. Braley and Rep. Peters (D-MI).
Landrieu, Pryor, Hagan and Begich all have the political battle of their lives ahead of them. Shaheen, Udall, Franken, Warner, Braley and Peters are locked in tight or tighter-than-expected races, with several either tied or trailing in the polls against the Republican challengers.
But do we have information to even suggest Democrats took an interest in 501(c)4 groups and, more specifically, the targeting of Tea Party and other conservative groups? In truth, we not only have recent evidence, we have documented instances of Democrats pulling the levers of government to unfairly target political opponents going back decades, suggesting a systemic problem that would make it fairly easy to imagine several of the aforementioned names having something to hide.
In 2009, at the behest of Obama lawyer Bob Bauer, the husband of noted leftist Anita Dunn, the FEC illegally requested information from Lois Lerner at the IRS regarding the conservative 501(c)4 group, American Issues Project. In truth, as noted by Kimberly Strassel at The Wall Street Journal, widespread targeting of conservatives in this manner began in 2008, "when liberals began a coordinated campaign of siccing the federal government on political opponents."
Fast-forward to May, 2013, roughly when the targeting revelations first surfaced, and it was already second nature for Lerner to use her office to aid those she agreed with ideologically. That's why Bauer went to Lerner in the first place, he knew she would comply with his illegal request.
We previously reported on the following email back in September, 2013, which shows Lois Lerner and another IRS employee, Sharon P. Light, were monitoring the media headlines regarding Democrats' interests in threats to the Senate majority from these groups.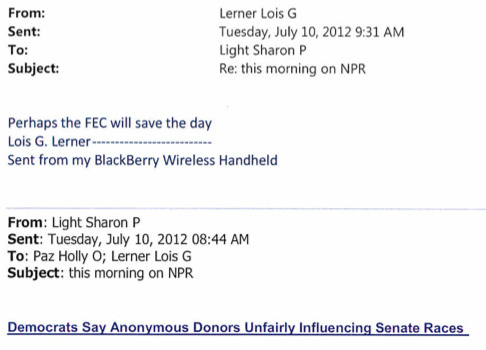 Lerner's response, "Perhaps the FEC will save the day," is particularly noteworthy. Lerner's nearly 34-year career in the federal government included time at the Justice Department and, you might have guessed, the Federal Election Commission. While at the FEC from 1986 to 2001, she was known for being overly aggressive during unwarranted investigations into conservative groups. And who would stop her? Lerner's former boss at the FEC, former General Counsel Larry Noble, became the President of Americans for Campaign Reform, a leftist organization Lerner described as part of the "FEC world pushing for the prosecution of 501(c)4" groups.
In an email dated March 27, 2013, she says "one IRS prosecution would make an impact," and that the "FEC world" felt that if they made an example, then conservatives "wouldn't feel so comfortable" exercising their First Amendment rights. Describing a bureaucracy completely at the disposal of Democrats and their supportive groups like the ACR, she writes that this was "their latest push to shut these [conservative groups] down."
From President Obama's unprecedented State of the Union speech, during which he belittled the Supreme Court over Citizens United, to congressional Democrats who starred in the emails of IRS officials, the Democratic Party has made clear they loathe the high court's decision and will use bureaucrats to help them do whatever they feel is in their power to undermine it. The high court's decision may have begun the nationalization of this debate, but the IRS withholding emails from the NRSC, emails that are likely damning to their candidates and Senate majority, suggests this is a debate they would prefer to ignore — or silence.
Friday, Whitewater independent counsel Robert Ray agreed with Senator Ted Cruz that the time has come for the appointment of a special prosecutor to investigate the IRS scandal. As more prominent players come forward in support of more action, it will be more and more difficult for the left to silence the opposition, despite their past success.