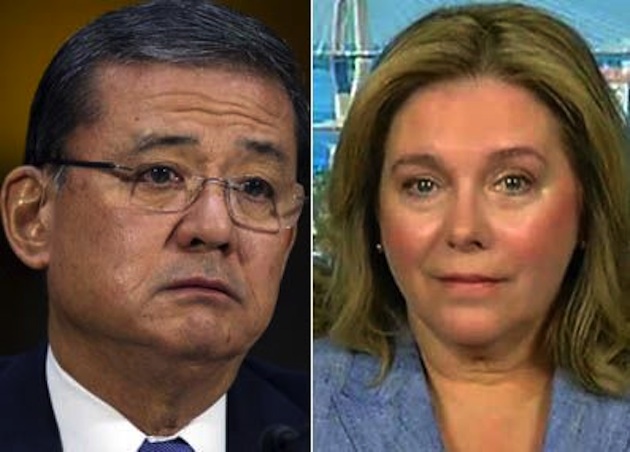 A former VA doctor made new allegations Monday against the Department of Veterans Affairs, telling hosts of a morning show that she was also ordered to delay the treatment of veterans for months and that at least two of them committed suicide.
The new allegations come amid a similar scandal involving administrators at the VA. Allegations in several states claim that workers were concealing information at the direction of VA administrators regarding the prolonged wait times for veterans to receive treatment. VA Secretary Eric Shinseki testified last week before Congress on the scandal, but so far has resisted calls for his resignation.
White House Press Secretary Jay Carney said Monday that both the president and his administration — including Shinseki — first learned about the story after seeing it on Fox News. The administration has sent out Carney with this position several times in the past, to include the IRS scandal, the wiretapping scandal and the gun-running scandal, Fast and Furious.
Dr. Margaret Moxness, a psychiatrist who was employed at the Huntington VA Medical Center in Charleston, West Virginia, from 2008 to 2010, appeared on "Fox & Friends" on Monday. She said she was told to put off treatment before and even after she alerted supervisors to veterans' needs for immediate care. At least two of these patients ended up committing suicide while waiting to be treatmented.
"I was in a very tight-knit community," Moxness said. "There was lots of extracurricular support: family, faith, vet centers. So we had help, but no thanks to the VA. …I mean, these men were eventually going to need more than a visit every 10 months."
Moxness said that VA administrators have completely lost touch with the patients they are charged to care for, and said they've become compassionless toward veterans.
"They don't really experience what the doctors and nurses are experiencing, which is the suffering and the pain and the death," she said.
As of 1:45 P.M. ET, neither the Huntington VA Medical Center nor the Washington-based headquarters have even returned a call for comment made by People's Pundit Daily.
"I was functionally silenced," Dr. Moxness said, for attempting to argue for her medical opinion. When patients are forced to wait "months" in between visits, then that "means they're partially treated, which means they're worse off than no treatment at all."
Several other whistle-blowers have made similar allegations of long delays and poor treatment at VA medical facilities, including in Texas and Missouri.
In response to the controversy, the Obama administration on Friday announced the resignation of a top VA health official, Under Secretary for Health Robert Petzel. Carney, under fire from reporters, said Monday that the resignation was an example of accountability, but they weren't buying it. Petzel, which was first reported by PeoplesPunditDaily.com, hhe had announced back in September that he planned to retire in 2014.
His resignation simply came a few months earlier than was previously planned, and is not the resignation that others have called for. It is widely seen as a way to protect the man truly responsible, former general and Secretary Eric Shinseki. Carney said that the president has "complete confidence" in the abilities of Shinseki. But Shinseki ins't the only official slipping past accountability.
Thus far, the VA has put three senior officials from the Phoenix facility on administrative leave following revelations other doctors said they were ordered to hold veterans' names for months on a secret waiting list until a spot opened up on an official list that met the agency's two-week waiting time goals.
Further, other allegations have been made about similar cover-up schemes at VA medical facilities in at least seven other cities. The Huntington VA Medical Center has 80 beds. In 2008, it provided care to 293,000 outpatients and 4,200 inpatients.