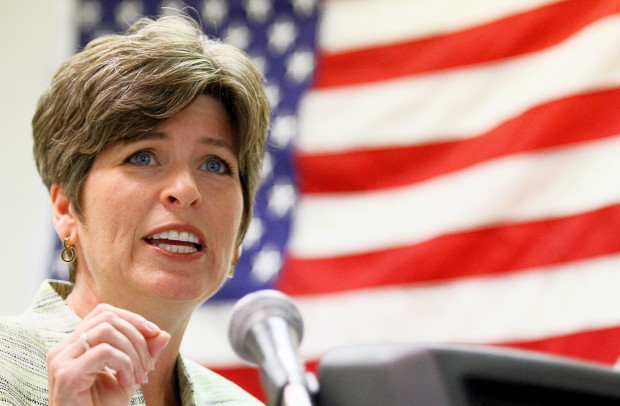 People's Pundit Daily can project that Republican Joni Ernst will win the Iowa Senate primary outright. Ernst had begun to build a big lead in the latter weeks of the campaign, building a broad coalition ranging from Mitt Romney to Sarah Palin.
PPD went out on a limb on June 1 to call the self-described "mother, soldier, conservative" the safe bet. Ernst made headlines back in March with an ad called "Squeal" that talked about her experience "castrating hogs." Then, another ad entitled "Shot," depicted Ernst, a veteran and former Lt. Colonel, with a firearm preparing "to take aim at wasteful spending" and promises to "set her sights on ObamaCare."
As we first underscored back in early May, she was the only candidate to have reached first-tier status. We were able to call the race at 9:29 PM ET, while her support was roughly where it is now and above 50 percent.
Joni Ernst is way ahead of challengers, poised to outright win as predicted by @PPDNews last week.

— Richard Baris (@Peoples_Pundit) June 4, 2014
College professor and talk radio host Sam Clovis took a distant second place with 18 percent of the vote, while businessman Mark Jacobs was close behind in third with 17.3 percent.
Former U.S. attorney Matt Whitaker, who is considering a 2016 presidential bid, was in an even more distant fourth place with just 7.8 percent of the vote.
Joni Ernst will face Democrat Bruce Braley in the Iowa Senate race this November. Braley was recently caught on video at an out-of-state fundraiser dismissing Chuck Grassley, the state's popular Republican senator, as a "farmer from Iowa who never went to law school." He has launched ads attempting to soften his perception and legal professional in light of the video, which is sure to get plastered all over the airwaves until Nov. Meanwhile, if Ernst defeats Braley, she will become Iowa's first woman ever elected to federal office.
The Iowa Senate race is rated a "Toss-Up" on PPD's 2014 Senate Map Predictions.