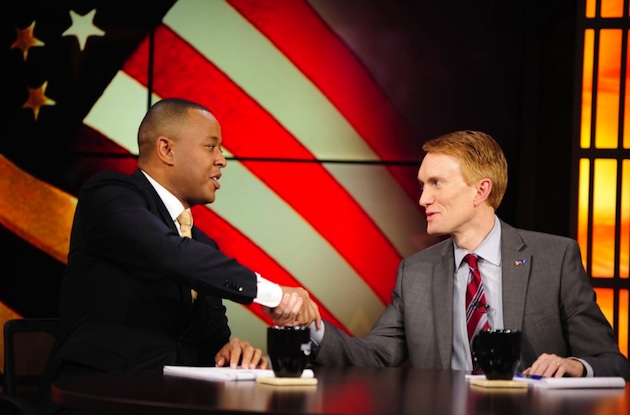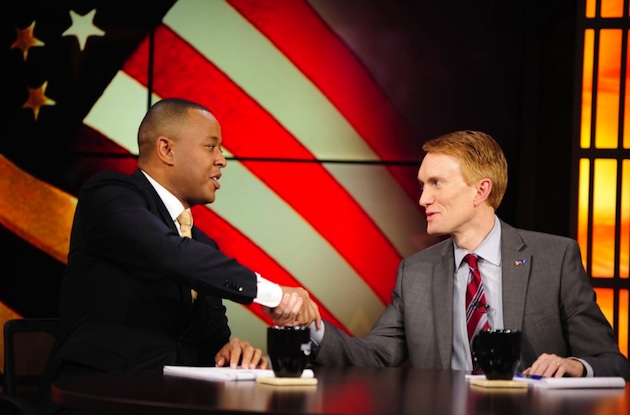 The national media have been inaccurately attempting to frame the Oklahoma Senate primary on Tuesday in the same light as the bare-knuckle battle in Mississippi. Not only is that not the case, at all, but the story actually shows a deeper divide than the typical establishment versus insurgent narrative.
First, in the Oklahoma primary, national Tea Party groups got behind state Rep. T.W. Shannon. The former speaker of the Oklahoma House of Representatives stepped down to focus on his Senate campaign, and quickly attempted to cast himself as the contest conservative. However, local Tea Party activists have always preferred Rep. James Lankford, the 46 year-old House Republican Policy Committee chairman. Lankford might be a member of the House leadership, but he's no establishment candidate, and won his seat just four years ago.
In fact, while Chris McDaniel enjoys widespread support among activists in Mississippi and on the national scene, the local Tea Party groups are a little more than angry in Oklahoma.
"Conservative grassroots leaders and activists from across the state of Oklahoma, felt it was important that we reinforce our opposition to the outside endorsements of T.W. Shannon for U.S. Senate in Oklahoma," three-dozen conservative activists wrote in a June 19 open letter to the "D.C. Tea Party Establishment."
"We continue to stand firm that T.W. is not the conservative in this race. Outside endorsements from the Senate Conservatives Fund, Governor Palin, Senators Cruz and Lee as well as others are at odds with many of the Tea Party and Grassroots Liberty organizations in Oklahoma. Boots on the ground, Oklahoma grassroots leaders and activists were not consulted regarding who the true conservative was prior to the endorsements."
It's because of these boots on the ground that we favor Lankford to earn more than Shannon in Tuesday's primary in Oklahoma, despite Shannon, 36, enjoying the backing of the American Conservative Union, Citizens United, GOPAC, FreedomWorks, conservative talk radio host Mark Levin and RedState's Erick Erickson. A candidate must receive more than 50 percent of the vote in order to avoid a runoff, which may change the dynamic of the race. However, even though primary polling isn't at all reliable to begin with, and it's even worse when the pollsters have an agenda, Shannon has only led in one poll since the head-to-head matchup has been tested.
The Oklahoma Senate primary is rated "Leans Lankford" on PPD's 2014 Senate Map Predictions, and will start as the strong favorite in November. The Oklahoma primary will determine who will replace outgoing Sen. Tom Colburn, who announced his retirement early.
Meanwhile, in the Mississippi Senate primary (part 2), Sen. Thad Cochran, a roughly 4-decade-long incumbent who lost to insurgent challenger Chris McDaniel three weeks ago by 1,386 votes (out of 313,483 ballots cast), is pulling out all of the stops to avoid retirement. The race had been a truly nasty establishment versus insurgent battle from the beginning, but got even worse after the first contest.
PPD first reported on Election Day that Cochran was collaborating with Democrats to stop the will of his own party and keep his lobbyist friends' pockets deep, but now he isn't even trying to hide it. In a last-minute cash infusion, the National Republican Senatorial Committee gave $175,000 to help Cochran get the job done.
The Senate Conservative Fund, Freedom Works and the Tea Party Patriots have all sent observers to areas where Mr. Cochran is recruiting Democrats, which is in and around his hometown of Jackson, indluing Hinds, Madison and Rankin counties. The more populous and moderate coastal counties, such as Harrison County, will also be regions to watch when the returns come in.
The new President of Senate Conservatives Fund, Ken Cuccinelli, and J. Christian Adams, a former Justice Department official turn-conservative commentator, described the watchers as "election observers." They will mostly be made up of Mississippi residents trained to "observe whether the law is being followed."
Areas rich with McDaniel's supporters reside in the northern, more rural counties and his Pine Belt state Senate district. Jones County, which includes Ellisville and Laurel, saw record turnout June 3, and their heavy support propelled McDaniel to the lead.
Speaking of leads: McDaniel is currently in the lead in the polls, but polling in this race has been widely inaccurate and each of the pollsters have a different take on the electorate. However, regarding Cochran's attempt to lure Democratic voters, I am skeptical. We witnesses and reported on his attempt in the first race, and while it is likely he will see much of his vote total represented by Democrats today, he is likely to lose a good deal of his moderate base pulling such a dirty stunt. In light of his entire justification for reelection, which is his ability to spend taxpayer money in his own state, the Hail Mary strategy shows just how desperate Team Cochran truly is.
The challenger, Chris McDaniel, is now favored to win the Mississippi Senate primary run-off election.
[scribd id=230525806 key=key-vjq458uL0o1S2WyUBuBh mode=scroll]