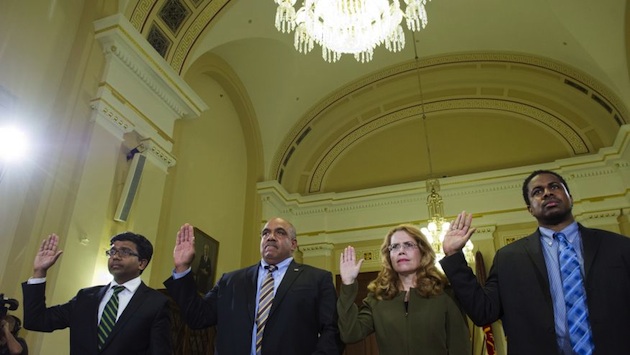 Four VA whistleblowers gave shocking testimony at a House hearing Tuesday night that revealed a culture of corruption, intimidation and retaliation at the Department of Veterans Affairs. The employees said they subjected to harassment, placed on unjustified leave and faced various other methods of retaliation when they raised the red flag on the agency we know is responsible for countless veterans' deaths.
The independent Office of Special Counsel has been looking into 67 claims of various forms of retaliation by supervisors at the VA, including 25 complaints filed after June 1, roughly the same time the VA scandal involving long patient waits and falsified records was reported. The complaints were filed in 28 states at 45 facilities, Special Counsel Carolyn Lerner said.
Lerner said that she has been able to stop disciplinary and retaliatory actions against several VA employees attempting to blow the whistle on corruption in the agency, including one who reported a crime at a VA facility in New York. In one instance, her office was able to correct the suspension of a VA employee in Hawaii who blew the whistle on an employee who was inappropriately restraining an elderly person in a wheelchair.
While the whistleblower in this case was granted full back pay and a separate, undisclosed monetary payment, according to testimony from Lerner this case is not the norm.
The VA often "has ignored or attempted to minimize problems" highlighted by whistleblowers, " allowing serious issues to fester and grow," she told  the House Veterans' Affairs Committee.
The whistleblowers testified that retaliation for reporting misconduct was the norm at the VA. Even more disturbing, there is a clear political agenda in the bureaucracy that effectively attacks those who either don't agree with them or report wrongdoing.
Scott Davis, a program specialist at the VA's Health Eligibility Center in Atlanta, testified that he was placed on involuntary leave after reporting that officials were "wasting millions of dollars" on a direct mail marketing campaign to promote ObamaCare. Davis also reported the possible purging and deleting of at least 10,000 veterans' health records. In what sounded like a tactic straight out of the IRS playbook, officials at the Atlanta center can easily delete or falsify records and documents to cover up backlog, corruption and mismanagement.
Even worse still, Davis alleged that after he filed a complaint directly to White House Deputy Chief of Staff Rob Nabors, someone from the White House leaked it to his manager and he was subjected to "harassment."
Dr. Christian Head, who works in the Legal and Quality Assurance department of the Greater Los Angeles VA Health Care System, testified about his experience after he was tasked with investigating allegations of time card fraud. After reporting his findings, which exposed corruption on the part of the VA officials investigated, he was labeled a "rat" and repeatedly humiliated in front of hundreds of employees.
"Retaliation culture is a cancer to the VA," he said.
Dr. Katherine Mitchell, a doctor at the Phoenix veterans hospital, which has been ground zero for the VA scandal, said she was harassed after speaking up about dozens of veterans who died while on falsified waiting lists.
Dr. Mitchell, a former co-director of the Phoenix VA hospital's ER, said in her prepared testimony that strokes, heart attacks, internal head bleeding and various other serious medical conditions were often missed by staffers. She said they were "overwhelmed by the glut of patients" and could not keep up with "the dangerous flood of patients." At first, her complaints were simply ignored, that is, until Dr. Mitchell was transferred, suspended and reprimanded.
"It is a bitter irony that our VA cannot guarantee high-quality health care in the middle of cosmopolitan Phoenix," she said.
All of the whistleblowers urged Congress to pass legislation offering more protections to ensure whistleblowers will not be intimidated, humiliated or retaliated against. They also said the VA is sorely lacking leadership with integrity, a not-so shocking revelation considering most of the VA bureaucracy and middle-level leadership roles are filled with civilians, not veterans.
Rep. Jeff Miller (R-FL), the chairman of the House Veterans' Affairs Committee, gave accolades to the whistleblowers for have the courage to come forward, despite threats of retaliation that included involuntary transfers and suspensions.
"Unlike their supervisors, these whistleblowers have put the interests of veterans before their own," Miller said. "They understand that metrics and measurements mean nothing without personal responsibility."
Following the testimony last night, James Tuchschmidt, the No. 2 official at the Veterans Health Administration, had little choice but to offer an apology, though words are not likely to suffice.
"I apologize to everyone whose voice has been stifled," Tuchschmidt said. "That's not what I stand for. I'm very disillusioned and sickened by all of this."