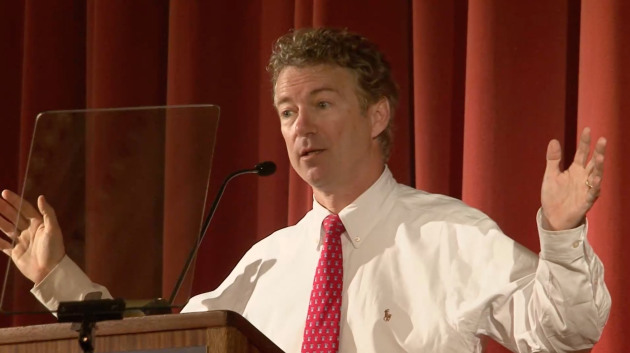 Libertarian-leaning Sen. Rand Paul (R-KY) called for CIA Director John Brennan to leave office amid news the agency spied on Senate staffers. Paul is now the third senator to do so since Brennan publicly apologized to the same committee that confirmed him for the spying.
In a statement sent to The Hill, Paul, who mounted a 13-hour filibuster against Brennan's confirmation in March, said that the spy agency chief and everyone else involved with the hacking should be removed from office.
"It is illegal for the CIA to spy on Americans and an affront to our republic to spy on the Senate," Paul said. "Brennan told the American people that the CIA did not spy on the Senate but now he admits that they did.
"Brennan should dismiss those responsible for breaking the law and be relieved of his post."
Paul's statement comes after Sens. Mark Udall (D-CO) and Martin Heinrich (D-NM), who both sit on the Senate Intelligence Committee, on Thursday urged Brennan to step aside.
The CIA inspector general report concluded "that some CIA employees acted in a manner inconsistent with the common understanding reached between" the Senate Intelligence Committee and the agency back in 2009, which outlined how access to a classified computer network was to be shared.
Five officials at the CIA had "improperly accessed" Senate staffers' drives and emails through a network set up to share secret documents about a report on the agency's "enhanced interrogation" methods. The Senate panel is preparing to release a public version of the 6,300-page classified analysis, which is expected to describe in detail the techniques that were used during the George W. Bush administration, which directly led to the name and location of Osama bin Laden's courier, who then led CIA agents to the location of the Pakistan compound where the terror leader was hiding.
Despite the lawmakers' call for Brennan to step aside, the White House has not been swayed. On Friday, President Obama maintained that he continues to have "full confidence" in the CIA leader.