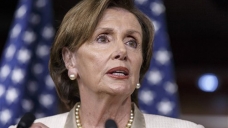 Minority Leader Nancy Pelosi charged Rep. Tom Marino after he called her out on her failure to act on immigration reform during her time as speaker. From 2009 to 2010, the Democrats had supermajority control of both Houses of Congress and the presidency, yet did not act on immigration, breaking countless campaign promises to Hispanic voters.
"Under the leadership of the former speaker … when in 2009 and 2010, they had the House, the Senate and the White House, and they knew this problem existed," Marino said. "They didn't have the strength to go after it back then. But now are trying to make a political issue out of it now."
Then, like a bull to a Matador, Pelosi charged Rep. Marino shaking her finger at him and calling the congressman an "insignificant person" on the House floor. Marino scoffed at Pelosi on Twitter later in the day.
Pelosi thought she would shut the Pennsylvania representative up, but Marino fired back immediately.
"It's true, madam leader, I did the research on it," Marino said. "You might want to try it. You might want to try it, madam leader. Do the research on it. Do the research. I did it. That's one thing that you don't do."
Reps. Ted Poe, R-Texas, Joe Barton, R-Texas, and Kay Granger, R-Texas, who were all seated behind Marino, looked absolutely shicked at Pelosi's outburst. The presiding officer, Rep. Randy Hultgren, R-Ill., told Marino to direct his comments through the chair and not at a fellow member.
"Well, it works both ways," says Marino.
After things seemed to calm down, Marino said, "Apparently I hit the right nerve."\
Apparently.
It is well-known on the Hill that Pelosi loathes the charge she didn't have the political stomach to pass immigration reform before the 2010 midterm elections. It is also well-known that she pushed ObamaCare knowing full-well that she would lose the political capital needed to push such a bill.