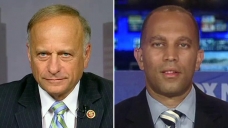 White House advisor Dan Pfeiffer said Sunday on "This Week" that President Obama will issue an executive order granting half of all illegal immigrants in the U.S. amnesty, an unprecedented move that Republican Representative Steve King (R-IA) warned will throw America into "a constitutional crisis."
Republicans have been critical of the president's failure to enforce immigration policy and charge that the current border crisis was created by Obama's policy. That claim was bolstered by a leaked intelligence report that concluded that the border crisis is being caused by illegals seeking amnesty and misunderstanding U.S. immigration policy, not violence in Central America.
The 10-page report conducted on July 7 by the El Paso Intelligence Center (EPIC), which is headed up by the DEA and includes the Department of Homeland Security, shattered the administration's entire narrative. "Of the 230 migrants interviewed, 219 cited the primary reason for migrating to the United States was the perception of U.S. immigration laws granting free passes or permisos to UAC (unaccompanied children) and adult females OTMs (other than Mexicans) traveling with minors," the report said.
The House voted on a border crisis bill late last week, but the Democratic-controlled Senate had already left for vacation. Even if the Senate stayed in D.C. to take up the bill, President Obama said he would've vetoed it, regardless. Now, the president's advisor says the president will just act without Congress, despite not having the constitutional authority to do so, which even he conceded several times in the past.
"But White House officials now say, and they really have been teeing this up, now it looks like the president will take some major executive action over the course of the summer or right after Labor Day and may even consider deferring the deportations of millions of more illegal immigrants," Chris Wallace said on "Fox News Sunday" this weekend. "Congressman King, if he does that, if he goes ahead and unilaterally decides to defer deportations of millions of immigrants, what are you going to do about it?", Wallace asked.
"None of us want to do the thing that's left for us as an alternative, but if the president has decided that he simply is not going to enforce any immigration law or at least not against anybody except the felons which potentially he has done already," Kind responded. "I think Congress has to sit down and have a serious look at the rest of this constitution and that includes that "i-word" we don't want to say."
Up until now no in-power Republican lawmaker, to include the Iowa congressman, has expressed even remote support for a move to impeach Obama. Following the first reports of the border crisis, calls for such an action have been limited to the realm of Sarah Palin and Rush Limbaugh.
"This suicidal idea has been duly ignored by the Senate Republican leadership, the House leadership, and every potential 2016 GOP presidential candidate," Carl Cannon of RCP said Sunday. "It has been rejected out of hand, really, by almost every prominent Republican in the country, including the never-shy Texas Sen. Ted Cruz."
Still, the unilateral move to grant amnesty to roughly 8 million illegal immigrants seems to be a game-changer for some lawmakers, and would truly be an unprecedented overreach of executive power. However, without a GOP takeover of the Senate, impeachment would have zero chance to succeed regardless of how unpopular amnesty is among the American public.
"And I only say that now on this program because I want to encourage the president please don't put America into a constitutional crisis," King added. "Please don't do that. There's too much at stake in this country to be decided that you can take over the constitution and write it at will."
House Republicans voted to move forward with Speaker John Boehner's lawsuit that specifically focuses on Obama's countless executive orders to change, alter or delay the Affordable Care Act, and recently a powerful D.C. court of appeals ruled the administration broke the law when they order the IRS to extend subsidies to those receiving coverage through the federal exchange, which is clearly prohibited in the law.
However, the federal lawsuit was always to be used as a tool outside of impeachment that House Republicans could use to attempt to reign in Obama's overreaching presidency. Rep. King held hearings in the House several months back, which starred liberal law professor Jonathan Turley, who warned the lawlessness during Obama presidency was bringing the nation to a constitutional tipping point. But even those hearings concluded impeachment wasn't a valid course of action at the time.
"But you're saying if he were to do that then impeachment would be on the table?" Wallace followed up.
"I think that we have to start, sit down and take a look at that. Where would we draw the line otherwise?" King questioned.
"If that's not enough to bring that about then I don't know what would be."