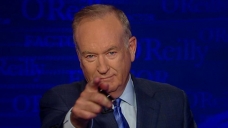 O'Reilly Talking Points Memo: 'I've Never Seen America Weaker Than It Is Today'
During his Talking Points Memo Monday night on "The O'Reilly Factor," Bill O'Reilly laid out the case for why American weakness has grown under President Obama.
From weakness in civil society to America's standing on the world stage; from individual ignorance to collective selfishness; to the porous border that presents a grave threat to the health and safety of Americans to the complete and total collapse of U.S. security interests abroad, the signs suggesting that the U.S. is headed down a path to ruin are everywhere.
"I've been in the media business for about 40 years now. I have never seen America weaker than it is today," O'Reilly said.