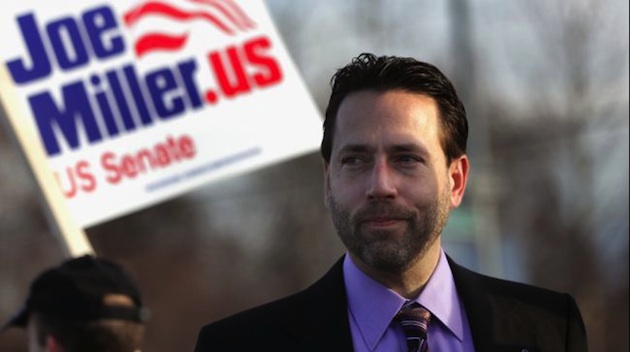 Joe Miller, the 2010 Republican nominee for U.S. Senate, has picked up several big endorsements ahead of Tuesday's Alaska Senate primary. Miller, by far, has the most energized and devoted base of supporters out of the three Republican candidates vying for the chance to take on embattled Democratic Sen. Mark Begich in November.
Miller's base appears to be swelling during a crucial time when former Natural Resources Commissioner Dan Sullivan appears to be losing steam, increasing the possibility him and Lt. Governor Mead Treadwell could split the establishment vote.
On August 14, the Anchorage Tea Party joined several other already-announced conservative groups by throwing their support behind Miller, kicking off a string of endorsements from former Gov. Sarah Palin, conservative talk show host Mark Levin and former Arkansas Governor Mike Huckabee.
" Although all three Republican candidates are saying things we want to hear, ATP believes that Joe Miller is the only one who can be trusted to take action consistent with his promises," the statement from the Anchorage Tea Party read. "While all of the three Republican candidates will be more attuned to ATP values and principles than is the incumbent, ATP is not convinced that their values and principles will not 'evolve' over time."
The endorsement preceded the coveted powerhouse endorsement of former Alaska Governor Sarah Palin, who many prematurely thought was sitting out of the Republican primary. "We said we'd send the good guys in Washington their reinforcements, so, Alaska, here we go," Palin said last week on Fox News. "Vote for Joe Miller on Tuesday and shake off the liberal stronghold so we can get on the right track."
Reliable polling in the Alaska Senate primary has been nil, and polling "The Last Frontier" is notoriously difficult. The liberal pollster Public Policy Polling released polling August 5 that found Miller with the momentum, surging from 14 to 20 percent against Sullivan (35 percent) and Treadwell (29 percent). However, according to PPD's pollster tracking, which rates pollsters on past accuracy, PPP has an abysmal 1 out of 5 track record in Republican primaries, which requires missing the margin of error by over 3 points nearly 75 percent of the time.
And underestimating Mr. Miller's base support was the norm in his last bid for the nomination. In 2010, one pollster said Miller was trailing in a race he won by 32 points.
Regardless, if Miller was trailing yet still gaining momentum in early August, the groundswell of endorsements could make Tuesday's primary a nail-biter. Immediately following Palin's endorsement, influential radio talk show host Mark Levin threw his weight behind the 2010 nominee.
"[Joe] was endorsed today by our dear friend Sarah Palin, and I would like to endorse him today myself," Mark Levin said, adding that Miller is a "constitutional conservative" running against "two establishment" GOP candidates. "Our friends in Alaska, you need to get out; you need to vote" for Joe Miller.
The latest endorsement came over the weekend from former Arkansas Governor Mike Huckabee, now the popular host of "The Huckabee Show" on Fox News. The potential 2016 Republican presidential candidate said Miller was "the common sense choice for those who desire limited government and free market economics."
"I am proud to endorse Joe Miller for United States Senate in Alaska, because Joe embodies the kind of values our country so desperately needs," Huckabee said in a statement. "He is unequivocally pro-life, pro-family, and pro-traditional marriage. And above all, he understands that life and liberty come from God."
While most believe that Miller remains the underdog in the race, the same was true in 2010 when he defeated sitting Sen. Lisa Murkowski in the Republican primary at a time when her approval rating was in the 70s, supposedly.
"I believe one reason we are seeing such a groundswell of support and endorsements as the election nears is because of what Alaskans have seen during the debates," campaign spokesman Randy DeSoto said. Miller performed above expectations in all of the debates, one of which, Dan Sullivan decided to sit out.
The Alaska Senate primary is rated a "Toss-Up" on PPD's 2014 Senate Map Predictions model. In January, PPD's senior political analyst Richard D.Baris predicted this potential outcome, which he says was unjustifiably ignored throughout the campaign.
"Sullivan and Treadwell now find themselves in the kind of trouble I expected them to be in months ago," Baris said. "Joe Miller appears to have all the momentum and excitement and, unless the establishment coalesces behind one or the other to a greater degree, Alaskan voters may send national pundits yet another message — we pick our own candidates out here, not you."