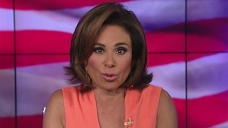 Judge Jeanine Pirro got right to the point in her monologue this weekend, A famous appeals court judge once said a grand jury could indict a ham sandwich," Judge Pirro said.
"Now I believe in the rule of law, but I am not going to sugar-coat this one. The indictment of Texas Governor Rick Perry for abuse of his veto power and coercion of a public servant is pure, unadulterated hogwash."
Pirro said the indictment embarrasses District Attorneys like her, and noted how former Obama advisor David Axelrod said the indictment was "pretty sketchy" in a tweet after the news broke.
Texas Gov. Rick Perry was indicted late Friday on charges he allegedly abused his veto power, but details of the indictment are leading some to question whether this is all a political witch hunt.
An Austin grand jury indicted the governor on felony counts of abuse of official capacity and coercion of a public servant after the governor vetoed $7.5 million in funding over two years for the so-called public integrity unit, which is run by Travis County District Attorney Rosemary Lehmberg, an outspoken Democrat and known political enemy of Gov. Rick Perry. Lehmberg heads up the public integrity unit, which investigates statewide allegations of corruption and political wrongdoing.
Perry repeatedly and publicly said he wouldn't allow Texas to fund the unit while Lehmberg was still in charge. Perry had called on Lehmberg to resign after she was arrested for drinking and driving and pleaded guilty in April 2013.
A video recording made at the jail shows Lehmberg spitting and shouting at staffers, demanding they call the sheriff directly, who she presumed would pull strings and get her off the charges. She is seen kicking the door of her cell and sticking her tongue out at police officers. Court records obtained by PPD show Lehmberg's blood-alcohol level was nearly three times the legal limit for driving.
Judge Jeanine Pirro, who before her judgeship served as a prosecutor in New York Superior court and as an elected District Attorney, said "nothing in this indictment makes sense."