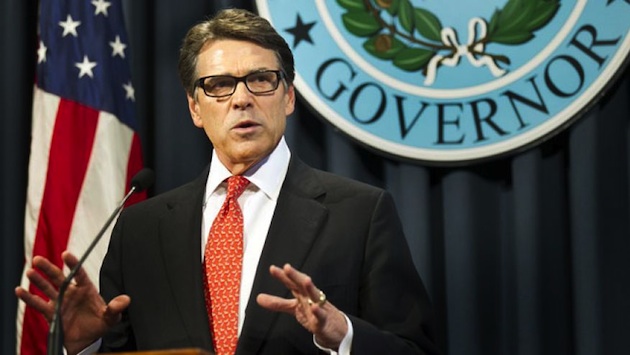 National Democrats are pressuring the Texas State Democratic Party to force the withdrawal of what they even see to be a politically-motivated prosecution of Texas Governor Rick Perry. While behind the scenes party leaders grow more concerned over the potential backlash, prominent talking heads have publicly begun to fire warning shots of criticism.
Harvard Law professor Alan Dershowitz, an outspoken liberal Democrat, compared the Perry indictment to a Soviet Union show trial. Lanny Davis, special counsel to former President Bill Clinton, said the indictment should be considered "outrageous to anyone who cares about due process and civil liberties" in an op-ed that appeared Monday in The Hill.
From the older, more moderate Clintonian Democrats to the modern, more liberal leftists in the Obama administration, big-name Democrats across the nation are abandoning and denouncing the Texas Democratic Party. What most certainly was intended to derail the aspirations of a 2016 Republican presidential hopeful is widely and openly being called out for what it is — a political witch hunt.
"The idea of indicting him because he threatened to veto spending unless a district attorney who was caught drinking and driving resigned, that's not anything for a criminal indictment," Professor Dershowitz told Newmax's "American Forum." "That's a political issue."
Even former top Obama advisor, David Axelrod, a man known for his Chicago-style political tactics, was quick to weigh in on the decision by the Democrat-controlled Travis County District Attorney's Office. To seek a grand jury indictment against Texas Governor Rick Perry for lawfully exercising his veto power "seems pretty sketchy," Axelrod tweeted Saturday.
Unless he was demonstrably trying to scrap the ethics unit for other than his stated reason, Perry indictment seems pretty sketchy.

— David Axelrod (@davidaxelrod) August 16, 2014
Texas Sen. Ted Cruz over the weekend characterized the office as having a "sad history" of politically motivated prosecutions. In fact, there is a laundry list when you dive into it.
"There is no doubt [the case] is politically motivated," former House majority leader Tom DeLay said. "Once again, the district attorney of Travis County presented a case, not unlike mine, that was very weak, if it was a case at all. … It's a conspiracy to use the legal system to politicize politics."
DeLay was also indicted in 2005 by a Travis County grand jury for allegedly conspiring to break election laws, and was convicted in January 2011 and sentenced to three years in prison. However, as a result of a rare action taken by the Texas Court of Appeals, DeLay was formally acquitted. The court threw out the conviction in September, 2013, generously claiming that the evidence in the case was "legally insufficient."
Travis County is the only reliably Democratic county in what is otherwise a deeply conservative state. Gov. Rick Perry has capitalized off of the large gains the Texas Republican Party made under then-Gov. George W. Bush among Hispanics in the four Valley counties, a strategy that Republican gubernatorial candidate Greg Abbott has successfully continued. During the same period Democrats have been able to widen their margin of support among Hispanics nationwide, the Texas State Democratic Party has been bleeding support among Hispanics, while Republicans have been building up their numbers.
The trend-line for the state party is heading in the wrong direction, as evident by the fact Democratic gubernatorial nominee Wendy Davis lost three of the four Valley counties, including Hidalgo, to her little-known opponent. Since the Texas State Democratic Party has largely been shutout of statewide elected office, they have long-used the Travis County government and judicial system to pursue a political agenda.
"They used the legal system to take me out. It is a conspiracy to use the legal system to criminalize politics," DeLay said. "You better take this seriously," he said to Gov. Perry. "All of the judges are Democrats. And we polled 300 jurors, and the best I got was a Green Peace activist."
The arbitrary treatment and punishment of elected officials by party affiliation has also been more than questionable. Perry was indicted by an Austin grand jury on felony counts of abuse of official capacity and coercion of a public servant, which carries a maximum punishment on the first charge from 5 to 99 years in prison, and 2 to 10 years on the second, a steep punishment for an act no one disputes was well-within the authority granted to the governor in the Texas Constitution.
Meanwhile, Travis County District Attorney Rosemary Lehmberg, an outspoken Democrat and known political enemy of Gov. Rick Perry, served about half of her 45-day jail sentence after she pleaded guilty to drunk driving in April 2013. Lehmberg was pulled over and arrested after police observed her car swerving in and out of a bicycle lane and discovered an open bottle of vodka in the front seat with her. Her blood alcohol content measured in at three times the legal limit.
A video of Lehmberg's shameful behavior while being charged and jailed, which depicts the head of the public integrity unit threatening the careers of the officers through her relationship with "Greg" the Sheriff, led to an investigation by a separate grand jury. Astonishingly, the jury ruled that she should not be removed from her post for official misconduct.
Popular former Republican Sen. Kay Bailey Hutchison was also a frequent target of the Travis County District Attorney's Office. Hutchison was indicted and charged not once but three times on trumped-up charges that were dismissed each and every single time. However, to the Democrats who run the judicial system in Travis County, the end result isn't nearly as important as the smear campaign waged during the period between the bogus indictments and the inevitable acquittals.
(Correction: The initial version of this story had Kay Bailey Hutchison spelled Hutchinson, which an astute reader who perhaps should apply to be an editor so pointedly noted. It has been amended to reflect the change.)
This tactic used by the Texas State Democratic Party to convict their political enemies in the court of public opinion on bogus charges, according to long-time Democrat Lanny Davis, betrays the very principles he and other national Democrats hold true and dear.
"It is even more outrageous to anyone who cares about due process and civil liberties to read the comments from local and state Democrats in the state Texas Democratic Party about the Perry indictment," Davis wrote. "The double standard cannot be tolerated."
"Democratic elected officials, especially Democratic attorneys general and district attorneys across the nation, must call on the Travis County DA to withdraw this absurd indictment, and Democratic Party leaders should publicly ask Texas Democrats who have rushed to public judgment of Gov. Perry to withdraw their comments … and apologize."