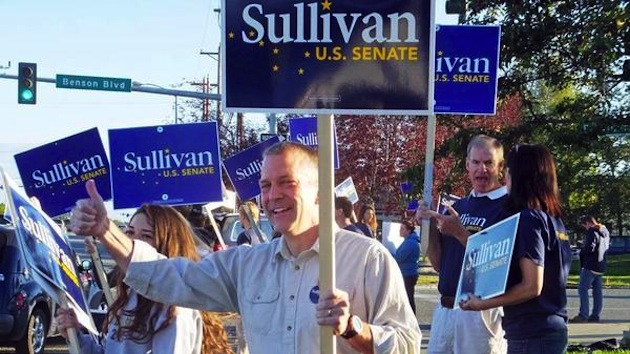 Former Alaska Attorney General Dan Sullivan won the Republican primary for U.S. Senate in Alaska and will now go on to face incumbent Democrat Sen. Mark Begich.
Sullivan had been seen as the front-runner by many in the three-way race, which PPD rated a "Toss-Up," but former 2010 nominee Joe Miller embarrassed the pollsters again. Mead Treadwell, who was widely and incorrectly considered Sullivan's biggest threat, badly trailed both Sullivan and Miller with 21,557 votes, or 25.06 percent.
Because Sullivan had the backing of Washington, D.C. establishment Republican Party and raised about four times as much as Mead Treadwell, the establishment vote broke strongly enough in his favor that Miller took second place with 27,392 votes, or 31.84 percent. Miller conceded the race early this morning and said he will strongly support the Republican nominee, which Sullivan no doubt will need if he hopes to defeat Begich.
"While there are still over 20,000 absentee ballots to be counted and several major precincts yet to report, it seems unlikely we will be able to close the 7,000-vote gap, given the current trends," Miller said. "I have called and congratulated Dan Sullivan for running a strong campaign."
Miller had picked up big endorsements in the final days of the campaign, which would have likely done his campaign more good earlier in the race, including from Sarah Palin, conservative talk show host Mark Levin, former Arkansas Gov. Mike Huckabee and the Anchorage Tea Party.
Meanwhile, Sullivan had the backing of other hard-hitting conservative groups, such as The Club For Growth, who will vigorously support him up until November.
"Congratulations to Dan Sullivan, a pro-growth conservative who will defeat Mark Begich," said Club for Growth President Chris Chocola in an email to PPD. "Mark Begich is a reliable vote for the Obama agenda, which has killed jobs and harmed Alaska. Voters in Alaska want to send a message to President Obama, and they'll do it by electing taxpayer hero Dan Sullivan in November."
From the onset of the cycle, Sullivan was the focus of attacks by a super PAC supporting Begich, which according to the pollsters, supposedly hurt his favorability ratings going into Tuesday's primary. However, the pollsters were off the mark again, and Sullivan performed considerably stronger than they had anticipated, taking 34,549 votes, or 40.16 percent.
The Alaska Senate race is rated "Leans Republican" on PPD's 2014 Senate Map Predictions model despite recent polling showing Begich holding on to a lead. Polling the Last Frontier, as we have once again been reminded, is notoriously difficult. In 2008, Begich defeated incumbent Republican Sen. Ted Stevens by under 4,000 votes just weeks after Stevens was convicted on bogus felony charges, which were vacated shortly before his tragic death in an airplane crash.
The polls forecast Begich would run away with the election, including one left-leaning pollster who found Begich with a 22-point lead.