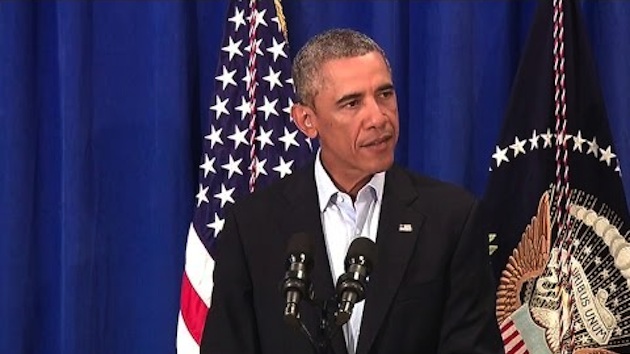 Speaking from Martha's Vineyard Wednesday afternoon, President Obama made a statement on the killing of journalist James Foley by the ISIS terrorist group. He was only 40 years old.
"The entire world is appalled by the brutal murder of Jim Foley," President Obama said. "Jim was a journalist, a son, a brother, and a friend. He reported from difficult and dangerous places, bearing witness to the lives of people a world away."
Foley was taken hostage in Syria nearly two years ago while reporting on the current conflict between Syrian President Assad and so-called freedom fighters, who have now been totally consumed by ISIS, otherwise known as ISIL or the Islamic State. The terror group now controls vast amounts of territory in Syria and Iraq, which they plan to establish an Islamic Caliphate in and, many would say they already have.
"So ISIL speaks for no religion," Obama said. "No just God would stand for what they did yesterday, and for what they do every single day."
In what was a clear reference to the hooded man's statements in the video depicting the decapitation of James Foley, which blamed the U.S. airstrikes in Iraq for their horrific actions, President Obama slammed their claims and their ideology.
"Their ideology is bankrupt," he said. "They may claim out of expediency that they are at war with the United States or the West, but the fact is they terrorize their neighbors and offer them nothing but an endless slavery to their empty vision, and the collapse of any definition of civilized behavior."
The attempt to intimidate and threaten President Obama into changing strategy in Iraq, has not work. In fact, U.S. fighter jets and drones stepped up attacks on ISIS targets in Iraq and the Obama administration is now weighing putting more boots on the ground.
Defense Department officials confirmed Wednesday afternoon that U.S. aircraft have conducted another 14 strikes near the Mosul Dam, which Kurdish forces recently re-took from Islamic militants, with help from the U.S. and Iraqi Security Forces. Now, the cowardly killing of Foley is putting more pressure on the White House to not only act in a more aggressive fashion, but to be more aggressive while setting the national tone.
Sen. Marco Rubio (R-FL) called the "brutal execution" of a defenseless Foley "the clearest indication to date that ISIL has declared war on the United States." House Intelligence Committee Chairman Mike Rogers (R-MI) echoed that sentiment Wednesday afternoon.
"America got a glimpse of exactly who they are," Rogers said. "This is a group you need to deal with."
But Rogers also said that helping Iraqi and Kurdish forces retake the Mosul Dam and other positions from ISIS militants must be part of a "bigger strategy."
"That ought to get us off our backsides and get to work on dismantling this organization. It's dangerous," he told Fox News earlier Wednesday.
Still, the president sounded more resolute today, though he remained on vacation in Martha's Vineyard, where he is contemplating sending up to 300 more U.S. special operation forces to train and target ISIS militants and hardware.
"People like this ultimately fail," President Obama said. "They fail, because the future is won by those who build and not destroy and the world is shaped by people like Jim Foley, and the overwhelming majority of humanity who are appalled by those who killed him."
White House officials wanted to make it clear that the president intends to do whatever is necessary to protect the American people.
"We will be vigilant and we will be relentless," he said. "When people harm Americans, anywhere, we do what's necessary to see that justice is done. And we act against ISIL, standing alongside others."