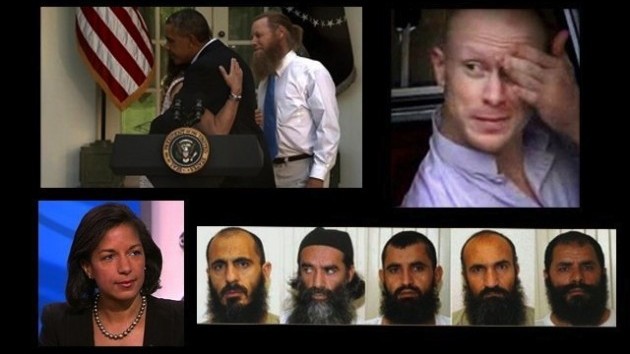 A new internal investigation concluded that the Pentagon violated the law when it swapped the notorious Taliban Five for Army Sgt. Bowe Bergdahl, a  deserter who was held prisoner in Afghanistan for five years after abandoning his post.
The nonpartisan Government Accountability Office, an internal government watchdog agency, said Thursday that the Defense Department's failure to notify the relevant congressional committees at least 30 days in advance of the exchange, was a clear violation of the law. The executive branch is prohibited under law from releasing Guantanamo Bay detainees without first giving the aforementioned notice and receiving approval.
While many lawmakers had raised the first point of illegality over the swap, the GAO also said the Pentagon's used funds to conduct the transfer that were not available or legally appropriated, which was a violation of the Antideficiency Act. The law bars spending by federal agencies above the amount of money that Congress has obligated and appropriated.
Bergdahl, who had deserted his post back in 2009, was traded for five Taliban leaders who were characterized by lawmakers as the worst of the worst. The five leaders are statistically very likely to return to the battlefield and one was responsible for the death of literally thousands of innocents alone. Under exchange terms, the five Taliban are to remain in Qatar for a year, but many lawmakers say they have information suggesting they are free to move and under little to no supervision as promised.