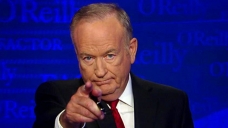 Bill O'Reilly, host of the "O'Reilly Factor" on Fox News, returned to work early this week to address the irresponsible coverage of the police shooting in Ferguson. O'Reilly ripped Rev. Al Sharpton for being a "charlatan" who has to whip up racial animosity for his personal benefit.
In a bit of a backstory, O'Reilly was at the top of Sharpton's rolodex for people to call when raising money for poor black communities, and for good reason. On at least one occasion during Christmas, O'Reilly responded to a call from Sharpton who said he needed several tens of thousands of dollars to feed poor families and buy children toys.
O'Reilly obliged.
The two were also together as featured guests during the president's announcement of his "Brother's Keeper" initiative, which has lost traction in the last year. Now, O'Reilly is one of Sharpton's biggest critics and, though he was also hard on the so-called civil rights activist during the Trayvon Martin case, O'Reilly has really ramped up the rhetoric now.