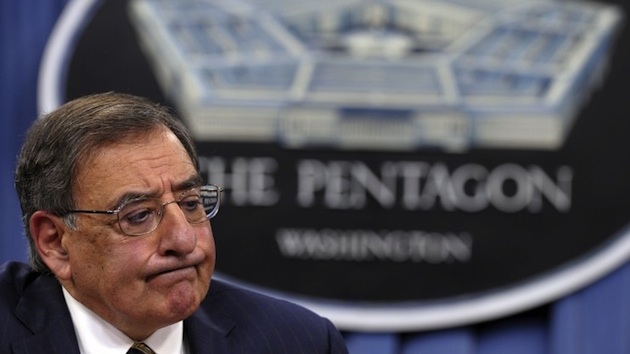 In the second time in under a month, former Defense Secretary Leon Panetta is making headlines by laying blame for the collapse of Iraq and the rise of ISIS at Obama's feet. In his upcoming memoir, Worthy Fights, to be published on October 7, 2014, Panetta writes that President Obama's failing to secure a 2011 deal that would've left U.S. troops in Iraq was a case of intentional sabotage, leaving the Iraqi people at the mercy of the Islamic State.
Panetta, who served as CIA director and defense secretary during the negotiations, also took to "60 Minutes" at the end of September to make the case against the president's decisions in the region. Excerpts on the Baghdad talks were published by Time Magazine.
"To my frustration, the White House coordinated the negotiations but never really led them," Panetta writes. "Officials there seemed content to endorse an agreement if State and Defense could reach one, but without the President's active advocacy, al-Maliki was allowed to slip away. The deal never materialized. To this day, I believe that a small U.S. troop presence in Iraq could have effectively advised the Iraqi military on how to deal with al-Qaeda's resurgence and the sectarian violence that has engulfed the country."
The White House has long-argued that the talks broke down when the Iraqis would not agree to give U.S. soldiers immunity. However, during the Bush administration the Iraqis made the same initial demand, but ultimately caved to U.S. pressure. Critics say that the president didn't get the concession because he didn't try. Now, Panetta has added his name to that growing bipartisan group of critics.
"We had leverage. We could, for instance, have threatened to withdraw reconstruction aid to Iraq if al-Maliki would not support some sort of continued U.S. military presence," Panetta explains. "My fear, as I voiced to the President and others, was that if the country split apart or slid back into the violence that we'd seen in the years immediately following the U.S. invasion, it could become a new haven for terrorists to plot attacks against the U.S. Iraq's stability was not only in Iraq's interest but also in ours."
Despite claiming he privately and publicly advocated in favor of a plan to leave a residual force that could provide training and security for Iraq's military, the president wasn't interested in hearing worse-case scenarios..
"Under Secretary of Defense Michèle Flournoy did her best to press that position, which reflected not just my views but also those of the military commanders in the region and the Joint Chiefs. But the President's team at the White House pushed back, and the differences occasionally became heated," he added. "Flournoy argued our case, and those on our side viewed the White House as so eager to rid itself of Iraq that it was willing to withdraw rather than lock in arrangements that would preserve our influence and interests."
Sens. John McCain (R-AZ) and Lindsey Graham (R-SC) pounced on the White House with Panetta's version of events, a version they have been arguing for years is what they saw happen first hand. Panetta's remarks follow similar criticism by former Iraq Ambassador Ryan Crocker, who said U.S. officials took their hands off the steering wheel under the Obama administration.
"We could have gotten that agreement if we had been a little more persistent, flexible, and creative. But what really cost us was the political withdrawal," Crocker told Defense One in a recent interview. "We cut off high-level political engagement with Iraq when we withdrew our troops."
In a joint statement from the two GOP senators, they argued that the president had been misleading the American people all along.
"The latest statements by two of the most respected national security officials to serve under President Obama definitively refute the falsehood that this administration has told the American people for years about their efforts to leave a residual force in Iraq," the senators said in a statement. "As we have said all along … the Obama Administration never made a full effort to leave a residual force in Iraq."
As Crocker recalls, the administration didn't simply withdrawal U.S. troops too early, but also abandoned them diplomatically.
"There were no senior visits, very few phone calls. Secretary of State John Kerry made one visit prior to this current crisis, mainly to lecture the Iraqis on how bad they were being for facilitating Iranian weapon shipments to Syrian President Bashar al-Assad," Crocker said. "And we left them to their own devices, knowing that left to their own devices, it would not work out well."
Since the rise of the Islamic State in Iraq, critics have argued the foreign policy failure was avoidable, while Democrats and presidential allies refuse to acknowledge the validity of such speculation. However, as he plainly made clear in his memoir, Panetta has no doubt that the politically motivated decision to pull out of Iraq far earlier than military advisors suggested is the case of the current crisis.
"To this day, I believe that a small U.S. troop presence in Iraq could have effectively advised the Iraqi military on how to deal with al-Qaeda's resurgence and the sectarian violence that has engulfed the country," he wrote.