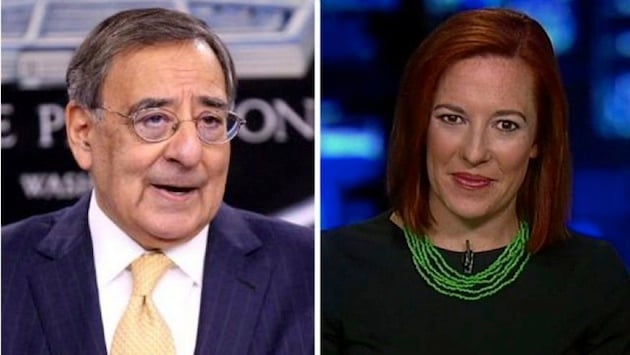 Megyn Kelly cornered State Department spokeswoman Jen Psaki Thursday night over the administration's contradictions regarding U.S. troops withdrawals from Iraq. The administration has answered criticisms that they pulled U.S. troops out of Iraq too early by claiming the majority of Iraqis did not want the U.S. presences and that the two countries could not come to an agreement over whether U.S. forces would have immunity from Iraqi prosecution.
However, that ever-changing narrative fell apart on "The Kelly File" when host Megyn Kelly cited numerous inconsistencies with White House claims and challenges from former members of the Obama administration, including several recent revelations from former Defense Secretary Leon Panetta.
In his upcoming memoir Worthy Fights, Panetta said that President Obama's failing to secure a 2011 deal that would've left U.S. troops in Iraq was a case of intentional sabotage, leaving the Iraqi people at the mercy of the Islamic State.
Panetta, who served as CIA director and defense secretary during the negotiations, also took to "60 Minutes" at the end of September to make the case against the president's decisions in the region.
Psaki insisted that these accounts of what happened three years ago were not based on facts, arguing that the U.S. couldn't simply force all those troops on a sovereign nation, and troops didn't have the protections they needed.
Kelly left Psaki speechless when she played a video of the third 2012 presidential debate with Mitt Romney, in which President Obama flat-out admitted he didn't want to leave a residual force of several thousand troops behind in Iraq. Now that ISIS has exploited that decision, the White House is in damage control changing stories in an attempt to avert responsibility.
Psaki also told Kelly that even if there was a residual force, "it would not have prevented" what's occurred in Iraq over the past few months.
However, with Fallujah falling in January of 2014, the rise of ISIS has not been a quickly moving development. Further, Panetta disagrees with that assessment and he backed by former Ambassador Ryan Crocker and Sen. John (R-AZ) and Lindsey Graham (R-SC), who pounced on the White House with Panetta's version of events, a version they have been arguing for years is what they saw happen first hand.
"We could have gotten that agreement if we had been a little more persistent, flexible, and creative. But what really cost us was the political withdrawal," Crocker told Defense One in a recent interview. "We cut off high-level political engagement with Iraq when we withdrew our troops."
"The latest statements by two of the most respected national security officials to serve under President Obama definitively refute the falsehood that this administration has told the American people for years about their efforts to leave a residual force in Iraq," the senators said in a statement. "As we have said all along … the Obama Administration never made a full effort to leave a residual force in Iraq."
Panetta made clear in his memoir that he has no doubt that the politically motivated decision to pull out of Iraq far earlier than military advisors suggested is the cause of the current crisis.
"To this day, I believe that a small U.S. troop presence in Iraq could have effectively advised the Iraqi military on how to deal with al-Qaeda's resurgence and the sectarian violence that has engulfed the country," he wrote.