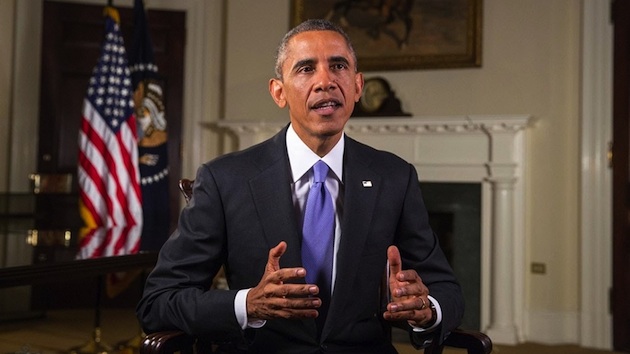 President Obama again affirmed his opposition to a travel ban to combat the spread of Ebola despite increasing pressure and public opinion, telling Americans not to be hysterical in his weekly address.
"We have to be guided by the science," the president said in his weekly radio and online address. "We're a nation of more than 300 million people. To date, we've seen three cases."
While that's certainly true, there would not have been even one case if the president had implimented a travel ban on individuals holding West African passports in the first place. Ebola patient and Liberian national Thomas Duncan, lied on his screening form about having contact with individuals infected with the deadly virus, and the president has thus far trusted the honor system going forward still.
"Meeting a public health challenge like this isn't just a job for government," the president said. "All of us — citizens, leaders, the media — have a responsibility and a role to play. This is a serious disease, but we can't give in to hysteria or fear because that only makes it harder to get people the accurate information they need."
According to PPD's tracking on the question of whether the president "should implement a travel ban," nearly three-quarters of the American people now say they want the ban in place.
"When the question was first posed, only 53 percent of Americans said they thought a travel ban would be effective and supported the measure," said PPD's senior political analyst Rich Baris. "Although it was a majority still, it was a slim one."
He said fear whether warranted or not is contributing to the support for the ban, but that there was more at play.
"What people are saying is that the president and officials have misled them on a host statements," he added. "We are really seeing a lack of confidence contribute to those fears."
Critics are questioning the president's decision to appoint Ron Klain, a former advisor to Al Gore and Joe Biden, who has no medical background, as the new Ebola czar. President Obama said this week during a press conference shortly before the appointment that he "didn't have a philosophical objections to a travel ban" if he thought it would be effective.
But he continued with the narrative — which doesn't make a distinction between chartered flights and commercial flights — that halting travel from these nations would hinder the ability of the U.S. to confront and contain the epidemic. Some of the president's allies have said it would be a logistical nightmare, while his critics point to the bans in place already in the United Kingdom and France.