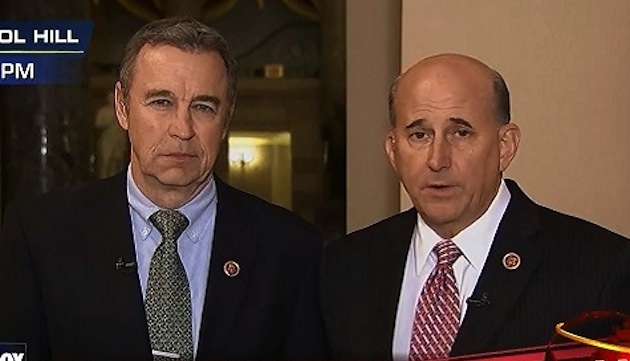 https://www.youtube.com/watch?v=zCFM9WQjyzc
Republican Reps. Louie Gohmert (R-TX) and Matt Salmon (R-AZ) ripped into Speaker John Boehner (R-OH) over the $1.1 trillion cromnibus bill to fund the government that barely passed the House Thursday.
"Let's do it together with conservatives," said Rep. Gohmert during an interview with Sean Hannity, referring to a conversation he had with Speaker Boehner. "That's the bulk of our conference, don't make them take a wrong vote. Let's fund everything for two months. Let us have a vote on defunding Obama's amnesty, and we'll even agree that the Senate can take it out if they take the hard vote to do that and let it go from there to the president."
Gohmert went on to say that it is telling how Boehner worked wanted to work with the White House to get around members of his own party, and that the conference was willing to hatch out a compromise.
"We were willing to work with them to compromise, and not one word," he added. "As you know, the calls went to the White House when in a time that the speaker needed votes he turned to somebody that he really identifies with, the president and liberal Democrats and got them to help him pass this vote."
Rep. Salmon said House GOP leadership didn't even try to gain concessions from Democrats.
"I said if we would send it to the Senate and then let it then work there will, we may be surprised," Rep. Salmon said. "There may be a lot of Democrats over there feeling a lot of pain and heat from the election, and they'll do the right thing.
"But we'll never know," he said. "You never know if you always punt the ball."
Government funding technically ran out on midnight Thursday, but lawmakers are moving on a stopgap measure to buy time, because the Senate debate could very well last through the weekend and even into Monday. If the bill passes in the Senate without amendment, the showdown can only be interpreted as a victory for conservative Republicans in the smallest measure.
Though current plan would fund the government through September 2015, immigration services would only be funded through late February. By that time, a new Republican Senate majority will have more leverage to wage a battle over the president's widely denounced executive order on immigration.
However, as Gohmert noted, there is a slight problem with that widely spread interpretation.
"The first rule of hostage negotiations is that you never take a hostage the other side wants you to shoot," Gohmert said.