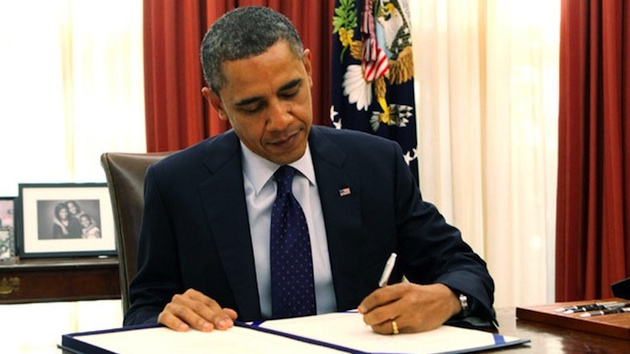 Apparently, President Obama really does use his "pen and phone" more than any other president, or at least the pen, anyway. A new report found Obama skirts the number of executive action by using what is known as a "presidential memorandum" at a historic pace. The backdoor tactic allows him and Democrats to technically claim he has issued less executive orders than other presidents, while still using runaround-Congress tactics to push major policy.
A review by USA Today, which was published Wednesday, shows that, in fact, Obama has issued more presidential memoranda than any U.S. president in history. He's issued 198 – more than the 195 executive orders from his White House.
The executive action is extremely similar to an executive order and the differences are next to nil. For instance, executive orders have to cite the law they're either addressing or are based on, but memoranda do not.
According to USA Today, when the memos and executive orders are combined, Obama is on pace to issue more "high-level executive actions" than any president since Harry Truman. Of course, critics have long-argued that the number isn't even significant, but rather the scope of the order and whether the president has the power assumed in those orders.
"That argument — that the president has issued less executive orders than other presidents — has always been irrelevant to the intellectual discussion of president power," said liberal law professor Jonathan Turley. "The number of orders is almost irrelevant. What is relevant is what those order are decreeing."
Professor Turley is lead council representing congressional Republicans in a lawsuit filed against the Obama administration in late November, which challenges the president's unilateral executive action on ObamaCare. For political expediency, as it was during the period leading up to the 2014 midterm elections, the president repeatedly changed and delayed the health care law in order to prevent voters from having their policies cancelled, particularly involving the employer mandate.
In fact, what is perhaps Obama's most controversial executive action – the overhaul of the U.S. immigration system, or granting of amnesty to at least $5 million illegal immigrants – was actually done through memoranda. On Tuesday, U.S. District Court Judge Arthur Schwab in Pennsylvania ruled Obama's actions were, in fact, unconstitutional.
However, it is unclear what impact, if any, the opinion might have other than adding momentum to critics' legal argument, because  it did not come in response to a challenge to Obama's immigration policy announcement. In a separate lawsuit, half of the country is united against the order that would grant roughly 5 million illegals legal status, a development that came just a week after the Republican-controlled House voted to strip the order.
Meanwhile, the states suing Obama over his unilateral amnesty order now include Alabama, Arizona, Arkansas, Florida, Georgia, Idaho, Indiana, Kansas, Louisiana, Maine, Michigan, Mississippi, Montana, Nebraska, North Carolina, South Carolina, North Dakota, Ohio, Oklahoma, South Dakota, Texas, Utah, West Virginia and Wisconsin.
U.S. District Judge Andrew Hanen last week was assigned to hear the legal challenge. Judge Hanen, who was appointed to the bench in 2002 by President Bush, said the Obama administration was involved in the "criminal conspiracy" involving defendant Mirtha Veronica Nava-Martinez, a mother who paid $6,000 to smuggle her child from El Salvador to Virginia.
(READ MORE: Obama Talks Immigration As Half The Nation Joins Lawsuit Against Executive Order)