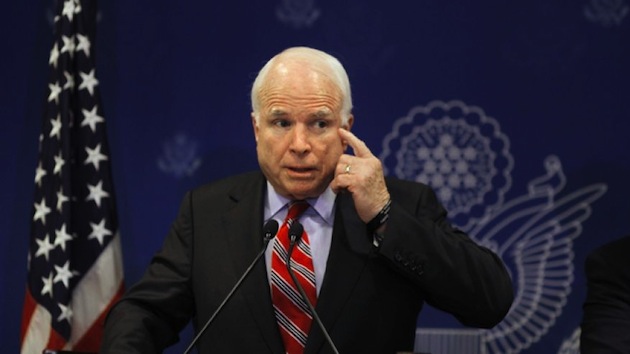 Top Republicans Sunday slammed President Obama for downplaying North Korea's cyber attacks on Sony Pictures Entertainment (NYSE:SNE), saying he is once again slow to respond. They took issue with the president calling it "cybervandalism," warning that the weakness could set a dangerous precedent.
Rep. Mike Rogers (R-MI), chairman of the House Permanent Select Committee on Intelligence, told Chris Wallace on "Fox News Sunday" that Obama should have responded to the Sony cyber attack already, rather than only issuing empty vows to respond.
On Friday, after Sony canceled the release of its new comedy "The Interview," the FBI finally officially blamed North Korea for the act that GOP lawmakers say amounts to "a new form of warfare."
Further, though Obama acknowledged the attacks were damaging, he said only that "we will respond," which came after White House Press Secretary Josh Earnest said there are a "range of options," yet named none.
"We need a proportional response," Earnest said.
Rep. Rogers said that Obama's response was lacking before "saying aloha" and taking off to Hawaii.
"I don't think that's enough," he said. "The press conference should have been: Here are the actions. Unfortunately, he's laid out a little of the playbook."
The outrage comes from comments Obama made on CNN's "State of the Union," which aired on Sunday but was taped on Friday. Obama said that the United States is still deciding how to respond to acts of "cybervandalism" against an American company, but also said the U.S. is reviewing whether to put North Korea back on its list of state sponsors of terrorism.
He echoed the sentiment that the U.S. would  respond "proportionately" and wouldn't be "intimidated by some cyber hackers," but offered no sense of urgency or details.
That's just not enough for House and Senate lawmakers, who say they have been ringing the alarm on the urgency of cyber warfare for years, but found a president unwilling to act.
"It is a new form of warfare, and we have to counter that form of warfare with a better form of warfare," Arizona GOP Sen. John McCain told CNN.
Sen. Lindsey Graham (R-SC) said Sunday the Sony cyber attack was "an act of terrorism" and at least proposed re-imposing harsher, Bush-era sanctions on North Korea that have worked in the past, as well as putting the country back on the list of state sponsors of terrorism.
"Make it so hard on the North Koreans that they don't want to do this in the future," he said on CBS's "Face the Nation. "The president calls this an act of vandalism. That just really bothers me greatly. It is an act of terrorism. And I hope he will respond forcefully."
North Korea spent two decades on the list until the Bush administration removed it in 2008 during nuclear negotiations, but only after previously imposed sanctions began to bring the regime to its knees. Now, just Iran, Sudan, Syria and Cuba remain on the list, which means required sanctions are imposed that limit U.S. aid, defense exports and various different financial transactions.
But Republicans argue there is a more fundamental problem with the administration's approach.
Rep. Patrick Meehan (R-PA), chairman of the House Homeland Security Committee's Subcommittee on Cybersecurity, said the Obama administration has been reluctant to define in no uncertain terms what constitutes a cyber attack, whether it is an act of war and, if so, what the consequences of such an attack will be. Rep. Meehan notes that the House bill dealing with cyber security already passed both houses of Congress and has awaited President Obama's signature for quite some time.
Meanwhile, North Korea threatened to strike back at the United States if Obama retaliated or re-added the regime to the list of state sponsors of terror. The National Defense Commission issued the threat in a statement via the country's official Korean Central News Agency, but like Obama, offered no details of a possible response.
Sony argues it canceled the cinema release of the movie not because they were bullied, but because distributors were refusing to show it. The company has pledged to find a way to get the film out.
Further, during the CNN interview, Obama again criticized Sony's decision, despite Sony's CEO has disputing that the company never reached out, claiming he spoke to a senior White House adviser about the situation before the company announced the decision.
The president said during his end of the year press conference that "I wish they would have called me first," which prompted the head of Sony to say in an interview that they did.
"You know, had they talked to me directly about this decision, I might have called the movie theater chains and distributors and asked them what that story was," he said.
White House officials said Sony did discuss cyber security with the federal government, but that the White House was never consulted on the decision not to distribute the film.