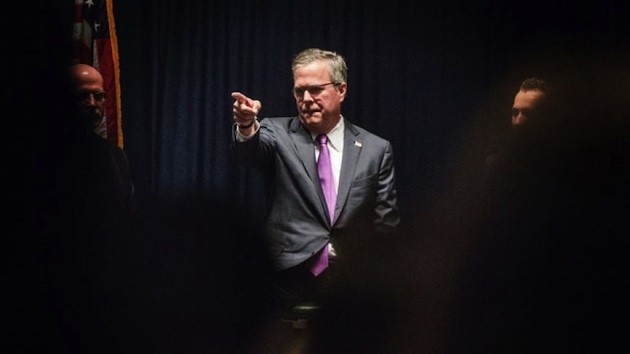 "This is a horrible day," Bush wrote on April 22, 2000, at 8:32 A.M. ET. "I am heartbroken over the federal government's actions this morning." Bush wrote the email just hours after the agents raided the Miami home where Elian Gonzales, a young Cuban boy, now age 21, was staying.
This email is one of 250,000 that Bush said 11 days ago he would release, obviously as a preemptive measure to show Americans his compassion, and leadership ability in times of crisis. The promise was part of a larger announcement that he will "actively explore" a 2016 White House bid.
In 2000, Gonzales was found floating on an inner tube off the Florida coast all alone after his mother had died during the journey to the United States. Thought to be under the protection of a Republican administration and dominated legislature, who have been pro-Cuban refugee, Gonzales was given to Miami relatives until he was suddenly taken by armed federal agents and returned to his father in Cuba.
Yet, the emails, which The Wall Street Journal claimed came from a personal email account and a state-government account used primarily for constituent services, addressed many other issues.
Perhaps the most controversial of the bunch pertained to the 2000 presidential election, during which his brother and president, George W. Bush, ultimately defeated Vice President Al Gore due to the results of the Sunshine State, which Jeb governed at the time.
"I believe my brother will win if the law is adhered to," Bush wrote days after the Nov. 7, 2000.
The former head of The Washington Post, now headed up by a man who disagreed with making such a poor investment, spent nearly $1 million attempting to show an independent recall that favored Gore. However, the result of their own recount actually gave George W. Bush a 1,665 vote-edge — more than triple his official 537-vote margin — if every dimple, hanging chad and mark on the ballots had been counted as a vote.
American Bridge, a liberal group that in recent months has targeted Bush and New Jersey Gov. Chris Christie, rumored to be the strongest of the 2016 GOP field, hoped a leak would show a damning piece of information.
Unfortunately, for them, American Bridge, after hours of pouring through the documents, there is likely nothing to accomplish what they had hoped.