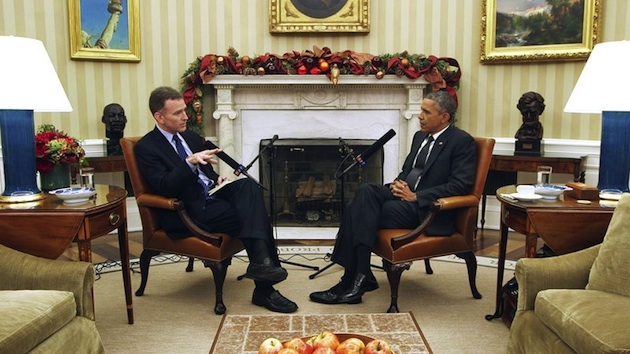 Morning Edition host Steve Inskeen conducted what NPR called a "wide-ranging interview with President Obama" covering "recent executive actions on Cuba and immigration, race relations in the U.S., health care, the midterm elections and extending democracy in the Middle East."
Unsurprisingly, Mr. Inskeen did not challenge the president on a single claim or version of events on any of the topics discussed. So, we thought we should highlight some of the president's answers that border on delusion. We actually had to paste related topics together due to the president's tendency to steer off track on issues and answers during interviews.
Immigration
Obama: With respect to immigration reform, obviously I'd been working on that for six years. And the truth …

Yeah. Well, I do — here's what I do think is true: that I have spent six years now in this office. We have dealt with the worst economic and financial crisis since the Great Depression. We have dealt with international turmoil that we haven't seen in a lot of years.

So, these were all big structural shifts that we had to do. I put immigration on that list and was frustrated that we weren't able to get legislation.
With respect to immigration, Inskeen asked the president whether or not politics had anything to do with the timing of his recent executive order on immigration. Much of the president's answer is typical Obama wandering, dodging and filibustering, and we will address some of those completely unrelated points shortly.
However, as we and many other media outlets have noted, the president hasn't been working on immigration reform for six years. In fact, for two years he and the Democrats had complete control in D.C., yet did nothing though he promised Hispanic left-wing activists he would sign a bill in the first two years of his presidency. Even Jorge Ramos, who to his credit did try to press the filibustering president in a recent interview, wasn't buying such a nonsensical version of events.
The data tell the truth, which I previously examined extensively. Under President Obama, working-class whites have completely abandoned the Democratic Party. Their answer to this problem, as underscored by Minority Leader Nancy Pelosi's (D-CA) post-election conference call, is to simply "find new voters."
Economy
There is little doubt that the latest GDP revision was both welcome and needed. However, fundamentally, the U.S. economy is on a terrible trajectory. Wages are stagnant and unexpected to rise significantly, the increasingly risky housing market is fundamentally weak, and jobs reports are not as impressive as the media suggest.
Obama: But at the end of 2014, I could look back and say we are as well-positioned today as we have been in quite some time economically… But what is true is that I'm in a position now where, with the economy relatively strong, with us having lowered the deficit, with us having strong growth and job growth, for the first time us starting to see wages ticking up.
When politicians either don't understand federal debt or are avoiding an intellectual debate that reveals truly frightening scenarios, they talk about the deficit. Even if deficits mattered as much as debt-to-GDP ratios, which they don't, the president and Democrats continue to claim that the deficit has lowered.
But that's really not true.
The national debt quietly surpassed $18 trillion as November transitioned to December and, because short-term deficit reduction will soon give way to exploding mid- and long-term budget shortfalls, largely due to underestimated costs of ObamaCare, the CBO says the debt will cripple the economy sooner than anyone predicted.
The Congressional Budget Office released two startling reports in April showing unsustainable levels of U.S. national debt under the status quo and President Obama's proposed budget. Unfortunately, political paralysis has prohibited our leaders from having the courage to level with the American people over the state of the economy, which is now the second-largest economy in the world — behind China.
Foreign Affairs
Obama: There's a fascinating experiment — transformation — taking place in Burma. This is one of the most isolated countries for the last 40 years, ruled by a brutal, repressive military junta.

There was an opportunity to open up Burma for the first time. We seized that opportunity. America was there.
With the plan to normalize relations with Cuba in full swing, we are going to hear more about Burma. Except, Burma, which may just be Hillary Clinton's only success story to tell regarding her tenure at the State Department, isn't and never was a success.
As usual, Obama gave away the farm for nothing, rewarding an oppressive dictatorial regime with trade deals only the regime's top .1 percent will benefit from. And what was the result? Since the deal was struck, the administration has been forced to walk back several, because surprise, they refuse to make promised democratic reforms.
Shocker.
Islamic State
Obama: I think we can't underestimate the danger of ISIL. They are a terrorist network that, unlike al-Qaida, has not limited itself to the periodic attack but have aspirations to control large swaths of territory, that possess resources and effectively an army that pose great dangers to our allies and can destabilize entire regions that are very dangerous for us.

So, I don't want to downplay that threat.
This may be the single-most disconnected statement President Obama has ever made. In fact, it is so far from the historical reality it is almost committable. Of course, the president isn't crazy, so lying would be the only other explanation.
ISIS doesn't aspire to control large swaths of territory, they do control large swaths of territory. Sadly, the number of cities under their control has not significantly changed since Obama announced his plan "to degrade and ultimately destroy" the Islamic State.
Not only did he downplay that threat when he called them a "JV" team juxtaposed to al-Qaeda, who he now says is limited in capability compared to the Islamic terror army, but he even sent his press secretary out to tell reporters he never specifically referred to the Islamic State when he made those comments. Naturally, he was mocked, because even an adoring media won't like such blatant insults to their intelligence.
In reality, the rise of ISIS is one of the biggest stories of 2014, and biggest foreign policy blunders in modern American security studies. Whether you supported the Iraq War or not, the country was stable when President Bush handed it over to Obama. Just before the surge, Bush issued a dire, prophetic warning about prematurely withdrawing the troops, which Obama did against the wishes of his military advisors, national security team and two defense secretaries.
Any other interpretation of events, is simply delusional.