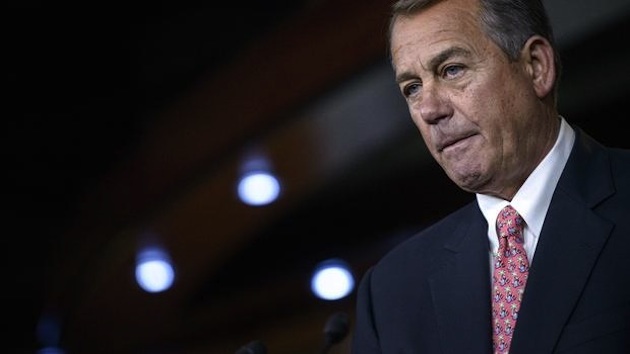 The new 246-vote Republican House majority voted Tuesday to reelection Rep. John Boehner as speaker to the 114th Congress, giving him a third term with the gavel. However, it was far closer than most pols and pundits thought.
Boehner had two main challengers in Reps. Ted Yoho (R-FL) and Louie Gohmert (R-TX), each of whom voted for themselves. Out of a total 408, Boehner took 216 votes with Minority Leader Nancy Pelosi a distant second with 164.
But it was the late-declared candidate from Florida, Rep. Daniel Webster, who received the second-most votes out of any other Republican member — 12. Gohmert received 3, Yoho received 2, Jim Jordan of Ohio also received 2, and Jim Cooper of Tennessee received 1. Sens. Jeff Sessions (R-AL) and Rand Paul (R-KY) each received one vote, as it is a little known fact that an individual does not even have to be a member of the House in order to serve as speaker.
In fact, former Secretary of State Colin Powell earned himself a vote, as well. Overall, Boehner dodged the bullet by a meager 4 votes, as 25 members voted against him and he could only afford to lose 29 to avoid a second ballot.
Conservative members of the caucus were disappointed with the speaker over the passage of the $1.1 trillion CRomnibus spending bill because it didn't cut anything, it didn't chip away at ObamaCare, and it certainly didn't fight "tooth and nail" against the president's executive action on immigration. Even though Mr. Boehner had promised to do those three things, and more, he ended up working with President Obama and the Democrats to get the bill through.
This isn't the first time the Ohio Republican congressman has been challenged for the gavel, and likely will not be the last.
In 2013, he was re-elected speaker with 220 votes, but 9 Republicans against him, one Republican voted "present," and two Republicans abstained (in addition to Boehner, himself). However, in 2011, Boehner was elected by all 241 members of his conference.
Reps. Yoho and Bridenstine both voted for then-Majority Leader Eric Cantor, who received the second-most votes (3) for speaker in 2013. Massie voted for Rep. Justin Amash, R-Michigan, a libertarian-leaning Republican who survived a primary onslaught from the GOP establishment in 2014, while Gohmert voted for then-Florida Congressman Allen West, who had just lost his reelection bid.
Brat is the newest member to oppose Boehner and the establishment. That's not particularly surprising considering he defeated Eric Cantor in an upset special election late last year. But despite the trend of opposition growing since 2011, it is sorely lagging behind public opinion.
A recent PPD Poll of 500 likely Republican voters found 65 percent wanted their representative to vote against Boehner for speaker, while just 26 percent said their representative should back him. While only 14 percent have a "very favorable" opinion of Boehner, 32 percent say they have a "very unfavorable" opinion of him.
"If actual Republican voters had their way, then his days as speaker would've been numbered," said PPD's senior political analyst, R. D. Baris. "But that's just not how modern Washington works."
When a serious member mounts a serious challenge to Mr. Boehner, he added, "they will know to begin the process earlier in order to mobilize grassroots pressure."