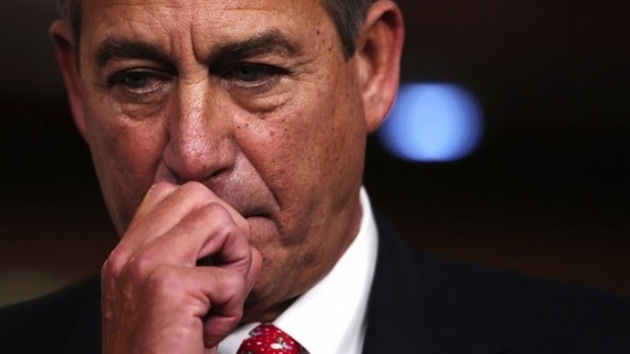 The number of Republican House members opposing current House Speaker John Boehner for a third term as speaker increased following two announced challenges. As of Monday morning, a total of nine Republicans have openly declared that they intend to vote against Boehner for Speaker of the House when the chambers convenes on Tuesday.
The nine members who have declared their opposition to Boehner are Jim Bridenstine, R-Okla., Louie Gohmert R-Texas, Ted Yoho, R-Fla., Paul Gosar, R-Ariz., Steve King, R-Iowa, Dave Brat, R-Va., Marlin Stutzman, R- Ind., Water Jones, R-N.C., and Thomas Massie, R-Ky.
However, two of those members will likely vote for themselves, as Gohmert and Yoho announced over the weekend that they will stand against Boehner for the position.
"The American people have spoken loud and clear by their choice to elect conservative Representatives to serve them in Washington," Rep. Yoho said Saturday. "It's our turn now, as Members of the People's House, to echo their demands by electing a new Speaker."
The announcement prompted to Gohmert, who was among the first to be vocal about his disappointed with the $1.1 trillion CRomnibus when it passed, to announce Sunday he would also seek the gavel.
"After the November elections gave Republicans control of the Senate, voters made clear they wanted change," Gohmert said on Fox & Friends. "We were hopeful our leaders got the voters' message. However, after our speaker forced through the (spending bill) by passing it with Democratic votes and without time to read it, it seemed clear that we needed new leadership."
Though Gohmert also indicted that at least one other member would announce a challenge, he offered no other details on who that individual may be.
Still, the task of overthrowing Boehner is a tall order, as it will take at least 28 dissenting votes to bring the election to a second ballot, which has not happened since 1923, when Frederick Gillette, a Republican from Massachusetts, took nine ballots to win re-election.
It is also true, however, that Republicans also have their largest majority since the 1920s, which could help to upset a vote that is typically a simple formality split along party lines.
Further, Rep. Bridenstine released a statement late Sunday referring to the rebels as a "Gang of Nine," but claimed "Monday, we will be in double digits." Meanwhile, Rep. Jones of North Carolina said that as many as 18 conservatives will look to vote against Boehner.
A Boehner spokesman said Sunday that the speaker was selected in November as the House Republican Conference's choice and that "he expects to be elected by the whole House this week."
Most of the opposition to Boehner stems from the belief among conservative members that he caved in by agreeing last month to a $1.1 trillion temporary federal spending bill, which averted another partial government shutdown. Those members believe Boehner did not do enough to punish President Obama for sidestepping Congress over immigration reform.
"Like President Obama, Speaker Boehner must have heard voices that didn't vote," Rep. Bridestine said in a statement. "Together they crafted the CR/Omnibus, a $1.1 trillion spending bill which funded the government for 10 months and blocked our newest elected Republicans from advancing conservative policy and delivering on campaign promises. With this vote, Republicans gave away the best tool available to rein in our liberal activist President: the power of the purse."
But if rebellious House Republican members hope to bring the vote to a second ballot, they will likely have to unify behind a single candidate, though as of now, they seem unlikely to do so.
"We now have two great candidates willing to challenge the status quo," Bridestine said. "I could vote for either Louie Gohmert or Ted Yoho."