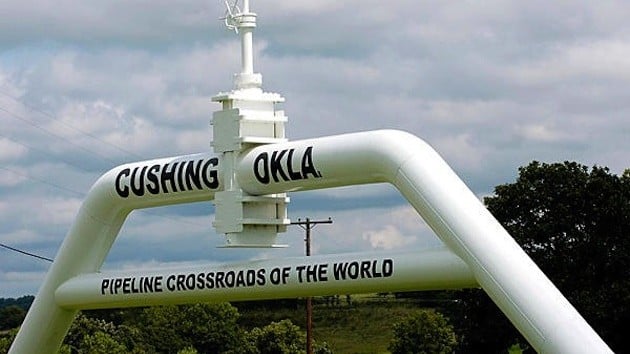 Nebraska's highest court has tossed out President Obama's last excuse not to approve the Keystone pipeline, as the landowners who sued didn't have legal standing to do so.
In a 4 – 3 decision, the state Supreme Court ruled Friday that the three landowners failed to show they had legal standing to bring their case, upholding a 2012 state law that allowed the governor to empower Calgary-based TransCanada to force eastern Nebraska landowners to sell their property for the project.
"The legislation must stand by default," the court said in the opinion.
President Barack Obama has said he was waiting for the Nebraska ruling before making major decisions for the pipeline, which would carry more than 800,000 barrels of oil a day from Canada to Texas refineries. Republicans promised the American people they would make the $7 billion cross-continental project a key part of their 2015 legislative agenda in Congress, and is on the top of the GOP's to-do list.
"President Obama is now out of excuses for blocking the Keystone pipeline and the thousands of American jobs it would create," House Speaker John Boehner (R-OH) said. "Finally, it's time to start building."
The Republican-controlled House, which is the largest GOP majority since the 1920s, is scheduled to vote on the bill approving the construction Friday. Meanwhile, the Senate is expected to finish taking up the bipartisan bill by the end of the month, leading to an inevitable tango with Obama, who has threatened to veto it.
White House spokesman Eric Schultz said following the ruling that the State Department would review it, though a prior review concluded the environmental impact of not building the pipeline would be worse than if the energy resources were transported via the pipeline. Yet, Schultz said that despite of the Nebraska ruling, the House legislation steps on the president's power "and prevents the thorough consideration of complex issues that could bear on U.S. national interests."
According to a new PPD Poll of 694 registered voters, 72 percent support its construction of the Keystone pipeline, including a majority of Democrats (53 percent), over two-thirds of independents (68 percent) and nearly 9 in 10 Republicans (88 percent).