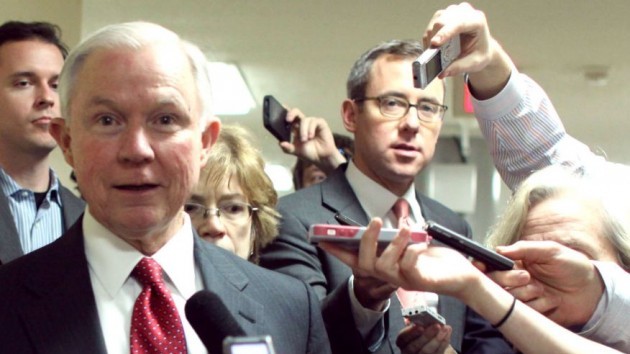 Sen. Jeff Sessions, R-AL, is calling for an investigation into after a Freedom of Information Act request revealed that since 2009, 5.5 million foreign worker permits have been issued above the yearly flow of 1 million green cards and 700,000 guest workers. The figures amount to a massive surplus beyond existing numerical limitations, or in plain English, beyond what Congress has legally authorized the president to do.
"This request has unearthed the operation of a shadow immigration system previously unknown to the American public," said Sessions, one of Capitol Hill's most outspoken critics of President Obama's immigration policy. "A full investigation is warranted."
According to recently released documents obtained by the conservative-leaning Center for Immigration Studies, Obama has created a shadow amnesty or "parallel" immigration system policy, which critics say has been stifling wages and taking jobs from Americans.
Congress authorized an estimated 5 million green cards and 3.5 million guest worker permits during the 2009-2014 period, in addition to the 5.5 million issued by administration action, a Senate staffer said Wednesday.
Sen. Session has largely framed his argument against Obama's immigration policy as hurtful to American workers, most of whom suffered under stagnant wages in the alleged post-recession economy.
"This massive increase in the labor supply has occurred simultaneously with a steep drop in family incomes and a sharp rise in the number of Americans pushed out of the workforce," Sen. Sessions said. "All jobs gains since the recession have gone to foreign workers, while the slack labor market has depressed median family incomes almost $5,000 in that time."
Jessica Vaughn, the center's director of policy studies, discovered the administration seized power to issue work permits outside the legal limits authorized by Congress. Vaughn says the process is now "the vehicle" for Obama's executive actions, which as PPD previously reported, have been hidden in presidential memorandum as not to tout excessive executive orders. Obama has used the process to offer deferred deportation to millions of people now in the country illegally.
"There's no reason to issue (work permits) to people here illegally or whose status is unknown," Vaughn also said. "And if the government agency issuing them does not know or will not disclose how the bearer arrived in the country how can others rely on the authenticity of an individual's identity? It is equally disconcerting if the government does know and chooses not to disclose it."
A whopping 23,215 parolees, nearly 1,000 stowaways and 49 people suspected of document fraud received permanent or "pre-permanent" work permits. It is the largest group of recipients.
Further, 531,692 students and 470,028 students received temporary work permits over that period. And those in both groups we neither originally admitted to the U.S. for employment nor qualified for admission, according to the study.
She said 1.7 million have either not been recorded or their statuses have not been disclosed by the Citizenship and Immigration Services, but "are on track to get a green card." which is cause for outrage because work permits are "gateway documents" to driver's licenses, voting rights and even benefits, including welfare.
While Vaughn admits "some of those people are on track to get a green card" already," she agrees with Sen. Jeff Sessions on the pro-American worker argument, adding "the vast majority of them entered illegal or on a tourist visa or the visa waiver program. It's not like there's a labor shortage here."
Particularly concerning is that the three biggest bloc ineligible for work permits, yet somehow still receiving them are illegal immigrants (928,000), people of "unknown" immigration status (1.7 million), and those on a temporary visa (1.8 million).
"The coming days will test whether congressional Democrats can claim to represent American workers," Sen. Sessions added, "or whether they will complete their transformation into the party of open borders."
Citizenship and Immigration Services did return a call requesting comment.