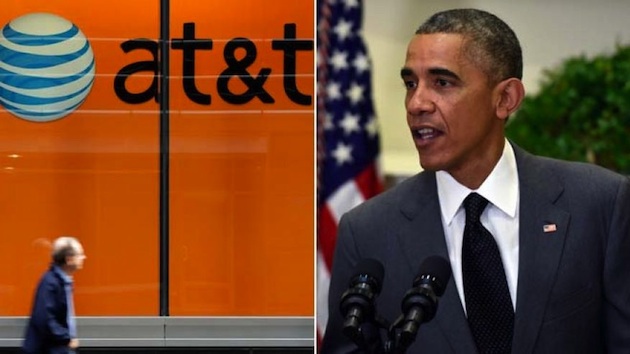 The Federal Communications Commission (FEC) Thursday voted to enact sweeping new regulations on the Internet long-sought by President Obama. In what was a straight party-line 3-2 vote following a contentious meeting, which is sure to be challenged in federal court by the broadband industry, the commission adopted so-called net neutrality — a proposal that remained secret in the run-up to the final vote.
Republican Commissioner Ajit Pai, who has supported Internet regulation at least in principle in the past, offered a scathing criticism and warned the policy represents a "monumental shift" to "government control of the Internet."
Pai further said the Democrats on the commission did not vote based on the program's merits or effectiveness, but because they were pressured by the Obama administration.
"President Obama told us to do so," Pai said, accusing the FCC of bending to Obama's will without proper debate and analysis. Pai also said that new taxes, and not just on the wealthy business owners and consumers, are inevitable.
"The order explicitly opens the door to billions of dollars in new taxes," he said adding that rates will ultimately go up and broadband service will slow. "Read my lips: More new taxes are coming. It's just a matter of when."
Citing slower Internet speeds in Europe, which largely treats the Internet as a public utility, in warning that the additional regulation will lead to less investment and slower speeds in the U.S. as well.
"The Internet is not broken. There is no problem for the government to solve," Pai said.
Republicans as a whole are blasting the plan Democratic Commissioner Mignon Clyburn voted for, and claimed "strikes the right balance."
"The Obama Administration needs to get beyond its 1930s rotary-telephone mindset and embrace the future," Senate Majority Leader Mitch McConnell, R-Ky., said in a statement. Fellow Republican member Michael O'Rielly called the plan a "monumental and unlawful power grab."
While FCC Chairman Tom Wheeler said it would ensure an "open, unfettered network" by allegedly barring providers from creating paid "fast lanes" on the Internet, consumer advocates and Internet companies say it would exterminate cash-strapped startups and smaller Internet-based businesses.
"This extraordinary action has been justified by the desire to preserve net neutrality, but the FCC Order goes well beyond that reasonable objective,"National Cable and Telecommunications Association CEO Michael Powell said in a statement. "The FCC has taken the overwhelming support for an open Internet and pried open the door to heavy-handed government regulation in a space celebrated for its free enterprise. The Commission has breathed new life into the decayed telephone regulatory model and applied it to the most dynamic, free-wheeling and innovative platform in history."
In 2005, net neutrality, which is the idea that websites or videos load at about the same speed, gained bureaucratic steam when YouTube came online and Netflix became increasingly popular. On-demand video became known as data hogs, and FCC claims began to surface that some providers were manipulating traffic without telling consumers.
By 2010, the FCC enacted open Internet rules, but the agency's legal approach was eventually struck down. FCC officials would erase the legal ambiguity by no longer classifying the Internet as an "information service" but a "telecommunications service" subject to Title II of the 1934 Communications Act.
"Since the dawn of broadband Internet service, consumers have enjoyed a fully open Internet," Powell added. "Our industry has always been committed to providing that experience to our customers. The day after this Order becomes law, consumers will see nothing different in their experience. However, they surely will bear the burden of new taxes and increased costs, and they will likely wait longer for faster and more innovative networks since investment will slow in the face of bureaucratic oversight."
Twitter agreed, adding that their opposition to the new rules were a matter of protecting free expression.
"Safeguarding the historic open architecture of the Internet and the ability for all users to `innovate without permission' is critical to American economic aspirations and our nation's global competitiveness," Twitter said in a statement.
Whatever the government's true intent, the rules would put the Internet in the same regulatory camp as the telephone by classifying it like a public utility, meaning they'd have to act in the "public interest" according to what the FCC deems not to be "unreasonable" business practices when providing a mobile connection to your home or phone.
However, Pai said that while the plan defers a decision on applying a service fee to Internet bills — much like is applied to phone bills — that surely will change. NCTA CEO Michael Powell agrees, warning that the everyday American consumer and small business innovators will suffer under the new regulations .
"With years of uncertainty and unintended consequences ahead of us, it falls to Congress to step in," Powell concluded. "Working together, our legislative leaders can protect an open Internet, while ensuring that it remains free for innovation without government permission and that it continues to create strong incentives to deploying ever-faster broadband to every American. The FCC has taken us in a distressing direction. We must now look to other branches of government for a more balanced resolution."
What do the American people think?
The vast majority of Americans don't believe the government should fix the Internet, and believe the Obama's net neutrality plan is all about government control. According to a recent survey conducted by Rasmussen Reports, just 26 percent of American adults agree the FCC should regulate the Internet like it does radio and television.
Meanwhile, 61 percent disagree and think the Internet should remain free of government regulation and censorship. Further, 68 percent are concerned that if the FCC does gain regulatory control over the Internet, then the government will abuse the power and attempt to control online content, or promote a political agenda. A significant 44 percent plurality say they are "very concerned."