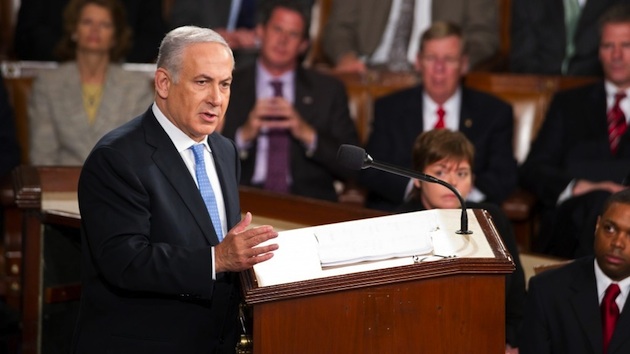 Speaking to a joint session of Congress Tuesday, Israeli Prime Minister Benjamin Netanyahu made an impassioned case against the dangers of the Iranian nuclear deal. In his roughly 40-minute speech that was interrupted by bipartisan applause some 40 times, Netanyahu said the "bad deal" doesn't block Iran's path to the bomb, but rather "paves the path for Iran to the bomb."
The prime minister spent 6 minutes outlining the vast activities of the regime in Tehran in support of Islamic terrorism and expanding their Islamic Republic. He further warned of a nuclear arms race in an already-violent region, creating a "nuclear tinderbox." He predicted the this deal would lead to "a Middle East littered with nuclear bombs" and a "nuclear nightmare."
The Israeli leader said the agreement currently in the works makes two major concessions. First, it would leave in place a "vast nuclear infrastructure," because it wouldn't require nuclear facilities to be destroyed. Indeed, some centrifuges would be allowed to keep running, while others would only be disconnected.
Second, Netanyahu said the restrictions would "automatically expire" in about a decade, and the regime has already been playing a dangerous game of "hide and cheat" with U.N. inspectors. The International Atomic Energy Agency (IAEA) confirmed Netanyahu's allegations earlier this week.
"It's the blink of an eye in the life of a nation," Netanyahu said.
President Obama confirmed in an interview with Reuters Monday that the U.S. is, in fact, conceding to a so-called sunset provision, a term even Democrats such as New Jersey Sen. Bob Menendez have opposed.
Meanwhile, he urged the U.S. should not to "be fooled" by Iran's efforts to oppose the Islamic State in Iraq and Syria, a group the U.S. is also is fighting. Netanyahu said both groups are radical haters of the West "competing for the crown of militant Islam."
"When it comes to Iran and ISIS, the enemy of your enemy — is your enemy," he said.
"We must always remember that the greatest danger facing the world is a nuclear-armed Iran," he added. "To defeat ISIS and let Iran get nuclear weapons would be to win the battle and lose the war. We can't let that happen."
The prime minister's remarks were made during his high-profile yet controversial and long-awaited speech as a result of Republican House Speaker John Boehner's invitation. The Obama administration, which is desperate to make a deal with the mullahs, considered the invitation a breach in protocol. Republican leaders defended the move, arguing it was important for Netanyahu to explain the threats posed by Iran and his concerns over the still-largely secretive terms of the nuclear deal.
However, as he did Monday at AIPAC, Netanyahu tried to ease tensions over his, which critics charged was too politicized.
"That was never my intention," he said. "Israel is grateful for the support of American — of America's people and of America's presidents, from Harry Truman to Barack Obama. We appreciate all that President Obama has done for Israel."
The appearance marks the third time the prime minister addressed a joint meeting of Congress, a privilege only one other foreign leader — Winston Churchill — has enjoyed. Speaker Boehner presented Netanyahu with a bust of Churchill prior to the speech 55 Democrats took issue with and refused to attend.
But, ultimately, Netanyahu said he felt "a profound obligation to speak to you about an issue that could well threaten the survival of my country and the future of my people: Iran's quest for nuclear weapons."
He further indicated that Israel will act on its own if need be, and that Jews are no longer scattered and powerless, and are defended by the "boundless courage" of IDF soldiers.
"This is why as prime minister of Israel, I can promise you one more thing. Even if Israel has to stand alone, Israel will stand," he said to an eruption of applause. "But I know that Israel does not stand alone. I know that America stands with Israel. I know that you stand with Israel."
He added "the story of Israel" is the "story of the human spirit which refuses to succumb to the horrors of history."
In conclusion, Netanyahu quoted Moses in Hebrew, then translating to English: "Be strong and resolute, neither fear nor dread them."
He wrapped it up by saying "may God bless Israel, and may God bless the United States of America."