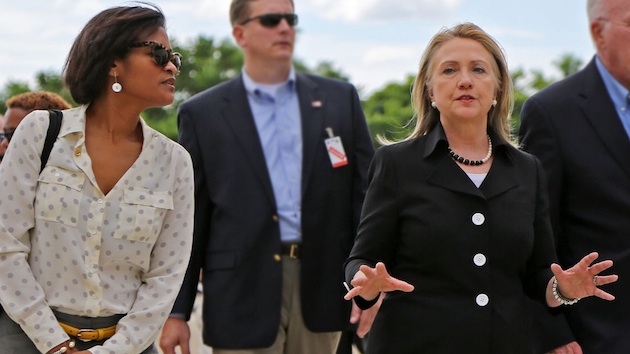 Former Secretary of State Hillary Clinton used a personal email account to conduct official business during her time at the State Department, a revelation that 1) raises more questions about access to the full archive of her correspondence, and 2) potentially violated federal law.
"You do not need a law degree to have an understanding of how troubling this is," said Rep. Trey Gowdy, R-S.C., the chair of the House Select Committee on Benghazi. "The fact is the State Department cannot certify that they have produced all of former Secretary Clinton's emails because they do not have all of former Secretary Clinton's emails, nor do they control access to them."
While the existence of the account was discovered by the House select committee investigating the deadly 2012 attacks on the U.S. Consulate in Benghazi, Libya, and was first reported by The New York Times, Chairman Gowdy said that he and the committee became aware of Mrs. Clinton's use of her personal email account last summer through documents that had been turned over to the committee.
Clinton did not even have a government email address during her tenure as America's top diplomat, which lasted from 2009 to 2013, rather than preserve her emails on department servers, as required by the Federal Records Act, Clinton's top advisers selected which emails would be turned over to the State Department for archival purposes after going through tens of thousands of pages of correspondence.
"The records custodian should be at the State Department, not at her private law firm," Gowdy said. "It should be a State Department employee who transcends administrations who comes before Congress to swear… that you have everything."
The developments come only days after PPD reported on bombshell emails obtained by Judicial Watch revealed top aides to Clinton always knew the Benghazi mission compound was under attack from a terrorist group, discussed focusing on the fabricated story with each other rather than terrorism, and further that Clinton herself lied to the victims' families. The documents, which were obtained as a result of a Freedom of Information Act lawsuit against the State Department, make no reference to a spontaneous demonstration or Internet video.
Unsurprisingly, the lawsuit requesting "any and all records concerning, regarding, or related to notes, updates, or reports created in response to the September 11, 2012 attack" including "but not limited to, notes, taken by then Secretary of State Hillary Rodham Clinton" returned heavily redacted emails from then-Chief of Staff Cheryl Mills, Jacob Sullivan (then-Deputy Chief of Staff for Policy), and Joseph McManus (then-Hillary Clinton's Executive Assistant).
But no emails from Hillary Clinton, herself. Both Cheryl Mills and Jacob Sullivan are on the partial list of notable witnesses to be questioned by the House Select Committee on Benghazi.
"The use of a personal e-mail address to skirt public records laws, aside from failing to meet the security standards one would expect of the nation's top diplomat, enabled Clinton to shield her official communications from scrutiny by the media and the American public," said Rep. Darrell Issa, R-Calif., former chairman of the House oversight committee.
Some Democrats and State Department officials immediately began to circle the Clinton wagon, drubbing up former Secretary of State Colin Powell's past use of private emails during the Bush administration.
According to the Times, however, while past secretaries of state, including Secretary Powell, have used personal email in the past, it cannot be equated to the Clinton practice for two reasons. First, updated regulations now require private emails to be preserved. Second, in the past, the use of private emails was the exception, not the norm.
Jason Baron, a former director of litigation at the National Archives, said that the use of private e-mail accounts is meant to be reserved only for emergencies, such as when a department's server is not working or compromised. He found it "very difficult to conceive of a scenario — short of nuclear winter — where an agency would be justified in allowing its cabinet-level head officer to solely use a private email communications channel for the conduct of government business."
The report has drawn heavy criticism from Republicans, including at least one potential challenger in the 2016 presidential race. Former Florida Gov. Jeb Bush, who released 250,000 emails from his gubernatorial tenure this past December, tweeted about the contrast between his disclosures and Clinton's secrecy.
Transparency matters. Unclassified @HillaryClinton emails should be released. You can see mine, here. http://t.co/wZbtwd8O2j

— Jeb Bush (@JebBush) March 3, 2015
Clinton, who is widely believed to be the front-runner for the Democratic nomination in 2016, is expected to formally launch her candidacy next month. However, the latest concerns regarding her emails at State mark the second major news story scrutinizing the media-presumed Democratic nominee. Revelations that the Clinton foundation accepts donations from foreign governments, individuals, corporations and other entities drew harsh criticism even from members of her own party.
It later became known that the practice occurred even during her tenure at the department, giving the appearance of a quid pro quo at the Obama administration and re-enforcing a long-held perception that the Clintons run pay-to-play operations out of the offices they are elected to serve in.
Meanwhile, it is not clear how many total emails from that period were in Clinton's personal account, nor is it clear how Clinton's advisers decided which emails to hand over to the State Department. The fate of emails to foreign leaders, private citizens, and non-State Department officials is also unclear.