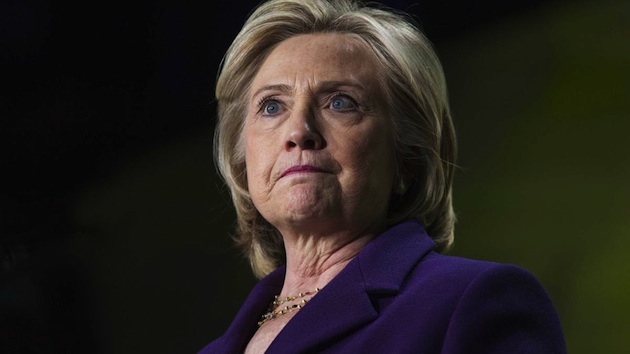 The Sunday show circuit hammered Hillary Clinton and her allies over revelations the likely presidential candidate conducted official State Department business on a never-before discovered private email account and server.
The story not only raises more questions about whether Congressional investigators had access to the full archive of her correspondences, but also means Sec. Clinton potentially violated White House regulations, State Department guidelines, and even the Federal Records Act.
NBC News anchor and correspondent Chuck Todd during an appearance on "Meet The Press" Sunday, Sen. Dianne Feinstein, R-Calif., called on Hillary Clinton to "step up" and "come forward" with the truth about her controversial private email server.
"What I would like is for her to come forward and say just what the situation is," Feinstein said. "I think at this point, from this point on, the silence is going to hurt her."
Speaking to the extend that the story has caused political damage to Hillary just over the course of the week, during the roundtable debate on ABC News' "This Week," Mark Halperin said the story and how the Clinton camp chose to handle it was a game-changer.
"I said a few weeks ago on this show that she was easily the most likely president of the United States; I now think — not only because this is a symptom and a cause, I now think she is not only not easily the most likely, I don't think she is the most likely," Halperin said. "Her husband can get through these things because he is a politician of a lifetime. She can not. If this is the way she's going to run her operation, if this is the mindset she's going to have, I don't think she is going to be president."
So-called "mainstream media" criticism of the Clinton "mindset" clearly began to emerge prior to the Sunday show circuit.
On her MSNBC program Friday, NBC's Andrea Mitchell said the Hillary Clinton e-mail scandal gave the House Select Committee on Benghazi the very legitimacy Democrats had otherwise hoped to deny, or even to discredit.
"The Benghazi investigation by the Select Committee was viewed by many as overkill, that it had all been cleared up back two years ago," Mitchell said. "And the fact is that some people, certainly the partisans for Hillary Clinton thought it was a witch hunt. Now, they can say with some legitimacy we didn't have the e-mails and we know it's out there."
Appearing as Mitchell's guest, Chuck Todd said the controversy will not only ensure a congressional investigation will remain hanging over Clinton's head, but that it will likely expand it.
"The congressional investigation is not going away. Not only that, it could get expanded," Todd said. "And it's just always going to be sitting out there. They [Clintons] want to call it a fishing expedition, but as you know, in some fishing expeditions they catch fish."
David Corn, the D.C. bureau chief for the liberal publication Mother Jones, said what could have been "a level four fire" became "a 13" only after the Clinton camp began lying to journalists digging into the story.
"In this instance, the Clinton campaign, such as it is, 'Clintonland,' they get into this defensive crouch, and they start looking at reporters like me who are on to the story and telling us things that are not true," Corn said. "I was told by a Clinton advocate working for her that everything was preserved by the State Dept., turns out it wasn't, they lied — stuff that went to people outside the State Dept. were not preserved."
Corn, who is widely considered to be the liberals' go-to media smear-man, said the latest controversy was, in large part, a demon of Clinton's own design.
"So, it is not just that the press is beating up on her," Corn said. "There is this awful dysfunction between the Clinton people and the press, as soon as she does something wrong, they get in a defensive crouch and they start saying things that aren't true, and instead of a level four fire it becomes a 13."
One of those Clinton people who found himself in the hot seat Sunday was former Clinton special counsel Lanny Davis, who was grilled by Chris Wallace on "Fox News Sunday" during an interview rightfully characterized as cringe-worthy.
"Do you ever get tired of cleaning up after the Clintons?" Wallace asked Davis in a fiery interview. During the heated exchange, Davis offered a throw back to the 1990s era Clintonian tactic of parsing words, a valiant but ultimately ineffective effort to answer Wallace's rule-specific inquiries.
The developments came a few days after PPD reported on bombshell emails obtained by Judicial Watch, which revealed top aides to Clinton always knew the Benghazi mission compound was under attack from a terrorist group. They discussed focusing on the fabricated story with each other rather than terrorism, and further indicate that Clinton herself lied to the victims' families during the ceremony on Sept. 14, 2012.
The documents, which were obtained as a result of a Freedom of Information Act lawsuit against the State Department, make no reference to a spontaneous demonstration or Internet video.
Unsurprisingly, the lawsuit requesting "any and all records concerning, regarding, or related to notes, updates, or reports created in response to the September 11, 2012 attack" including "but not limited to, notes, taken by then Secretary of State Hillary Rodham Clinton" returned heavily redacted emails from then-Chief of Staff Cheryl Mills, Jacob Sullivan (then-Deputy Chief of Staff for Policy), and Joseph McManus (then-Hillary Clinton's Executive Assistant).
But no emails from Hillary Clinton, herself. Both Cheryl Mills and Jacob Sullivan are on the partial list of notable witnesses to be questioned by the House Select Committee on Benghazi.
Jason Baron, a former director of litigation at the National Archives, said that the use of private e-mail accounts is meant to be reserved only for emergencies, such as when a department's server is not working or compromised. He found it "very difficult to conceive of a scenario — short of nuclear winter — where an agency would be justified in allowing its cabinet-level head officer to solely use a private email communications channel for the conduct of government business."