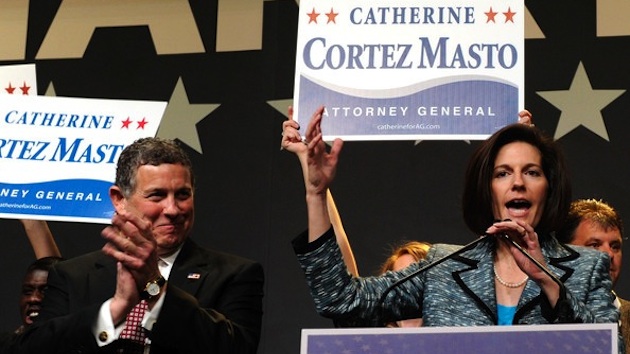 Catherine Cortez Masto, the hand-picked successor of Sen. Minority Leader Harry Reid, will run for the open Nevada Senate seat in 2016. Sen. Reid, the former majority leader, announced he would retire from the U.S. Senate in late March.
"Catherine Cortez Masto fights to protect Nevada's seniors, children, women, consumers, and homeowners," a statement on her new website read. "She did it as a prosecutor. She did it as Nevada's Attorney General. Now she wants to bring her fight to the U.S. Senate."
The Democratic Senatorial Campaign Committee (DSCC) endorsed Masto, the former Nevada attorney general, soon after her announcement on Wednesday, calling her "the strongest candidate to keep this Senate seat in Democratic hands."
Reid, hoping to avoid a messy and contested Democratic primary, endorsed Masto within hours of his retirement announcement.
"She's a great candidate," he said on KNPR.
The minority leader has received widespread criticism in recent weeks for lying about 2012 GOP nominee not paying his taxes. Reid to took the Senate floor during the presidential election to claim he had heard from "sources" that Romney hadn't paid taxes in 10 years. The claim was false, but politicians are protected from slander on the floor of the Senate.
"I have no regrets," Reid said. "Romney didn't win, did he?"
Masto may still have to defeat Rep. Dina Titus, a sitting representative with an organization who said she is considering a bid. On the Republican side, the field is not yet close to being set.
Masto's successor Attorney General Adam P. Laxalt — the grandson of one of President Ronald W. Reagan's "First Friend," the long-serving Nevada senator Paul D. Laxalt — trails Masto 44 percent to 39 percent, according to recent polling from Gravis Marketing. Laxalt trails Titus by just 46 percent to 44 percent.
However, if he decides to run, the open seat is Gov. Brian Sandoval's race to lose.
"Laxalt is close against Titus and Masto, but in the first look at this Senate race, Sandoval is the one with real separation," said Gravis President Doug Kaplan. "Sandoval is a very strong candidate and being of Mexican descent gives him inroads to the minority voters."
Because of the early uncertainty, the Nevada Senate race is rated a Toss-Up on the PPD 2016 Senate Election Projection Map, which was hands down the most accurate election projection model in 2014.