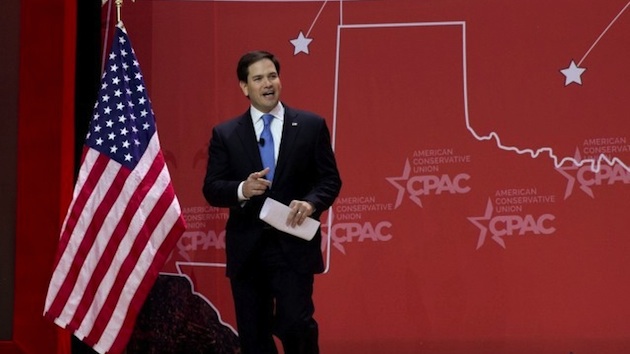 MIAMI, Fla. — Sen. Marco Rubio, R-Fla, told donors and supporters on a conference call Monday that he is running for president in 2016 with an emphasis on the future, not the past. Rubio, 43, a Cuban-American, characterized Hillary Clinton as the embodiment of the past, and told backers that he feels his story makes him "uniquely qualified" to pitch the Republican Party as one that will defend the American Dream.
The conference call with supporters Monday took place before a flashy political rally set for Monday night at the Miami Freedom Tower in Miami, Florida, a location long-known to symbolize Cuban refuge from communism.
Underscoring his campaign's message, Rubio said the American dream is slipping away from too many of the nation's families, and young Americans now face fewer opportunities to succeed than previous generations. It was an inclusive message targeting all voters.
"I feel uniquely qualified to not just make that argument, but to outline the policies that we need to have in order to achieve it," he said.
Rubio's critics and rivals will argue he's not yet ready for the White House, as we've heard from Charles Krauthammer. However, despite his experience as the speaker of the Florida House, Rubio has crafted and identified specific policy proposals, both on foreign and domestic issues, which he will articulate with his extraordinary communication skills in the hope it will boost his stature.
On Tuesday, his first day as an official candidate, he is scheduled to return to Washington to join a Senate hearing on a proposed deal with Iran on its nuclear ambitions. Sen. Rubio has been a staunch, outspoken critic of both the Iran nuclear deal and the decision to normalize relations with Cuba.
Rubio's presidential announcement comes a day after Clinton announced her bid for the Democratic nomination. She is currently traveling to Iowa in a minivan dubbed "Scooby" with the goal to convince voters she is on their level, which marks the first trip for Hillary as a candidate.
It is unclear whether Rubio's entrance into the race with be overshadowed by Hillary's trip, or if it takes some steam out of it.
"I do think Rubio may benefit from announcing today," said Democratic strategist Joe Trippi. "In the conversations across all the networks we are throwing them both in together. And I think that helps him."
Rubio agrees, and believes it was an opportunity to cast the presidential contest as a decision between a younger, fresh face from a new generation of leadership and the same old-same old corruption and failure.
"The Republican Party, for the first time in a long time, has a chance in this election to be the party of the future," Rubio told his donors. "Just yesterday, we heard from a leader from yesterday who wants to take us back to yesterday, but I feel that this country has always been about tomorrow."
Rubio faces serious challenges to winning the nomination in what will be a deep Republican bench, perhaps the deepest in decades. In fact, one of them will likely be from his mentor, former Florida Gov. Jeb Bush. Rubio will become the third major Republican candidate to declare he is running for president, following the first announcement from Texas Sen. Ted Cruz and the second from Sen. Rand Paul. In the end, the field that could grow to 20 or more candidates.
A first-generation immigrant whose parents fled Cuba, both Sens. Rubio and Cruz could make history as the nation's first Hispanic president. Rubio will frames his story to voters as the embodiment of the American Dream and promise of opportunity. He is the son of a maid and bartender who worked his way through law school and now sits in Congress.