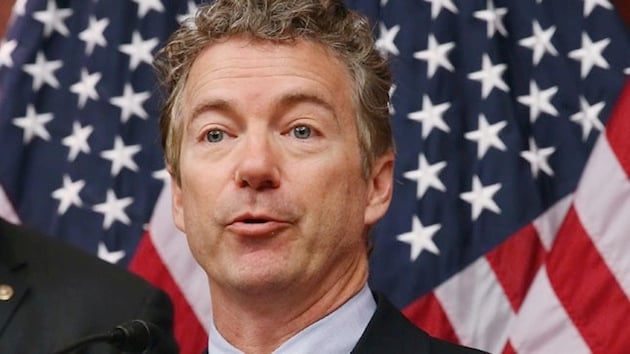 Libertarian-leaning Sen. Rand Paul, R-Ky., has officially announced he will run for president in 2016, gearing up for an event in Louisville Tuesday. Paul, 52, will become the second Republican candidate to announce a White House bid following the announcement of Sen. Ted Cruz, R-Texas, late last month.
"I am running for president to return our country to the principles of liberty and limited government," Paul said on his website RandPaul.com. The techie announcement comes as no surprise, as Paul has effectively and dominantly utilized social media and other technological practices to raise money and support in the past.
On Monday, Paul's camp released a video ad teasing the announcement and promising a "new kind of Republican."
"On April 7, a different kind of Republican will take on Washington," the video says at the open.
Following the "Stand with Rand" rally at the Galt House Hotel Tuesday afternoon, which they expect "well over a thousand" supporters and a large media presence to attend, Sen. Paul will take off to the races, visiting early primary and caucus states to build support for the GOP nomination among voters and donors alike.
Sen. Paul, the son of three-time presidential candidate Ron Paul, R-Texas, will ironically make the pitch he is more electable and his brand of libertarian Republicanism is more palatable to non-traditional GOP voters. It is a different approach to Sen. Cruz, who intends to maximize the vote among the Christian right, but there is at least some early evidence to support his pitch.
As PPD recently examined, polls suggest Sen. Paul has a far better shot at winning the nomination and a general election juxtaposed to previous libertarian and libertarian-leaning candidates than other pundits want to admit. Paul has consistently run stronger than other GOP hopefuls against Hillary Clinton, and has demonstrated the greatest potential to expand the party's appeal.
Aside from enjoying support from conservatives, independents and libertarians, the senator has actively courted young and minority voters. Paul has made a point of visiting college campuses, including UC Berkley, and historically black colleges, and minority communities. Paul opened the first GOP outreach field office in Detroit last year.
In 2013, the senator began visiting constituencies Republicans have rarely courted in recent elections, reaching out to minority voters in inner-city neighborhoods.
In January, Paul advanced his unconventional efforts by hiring Chip Englander, the former campaign manager for Illinois Republican Bruce Rauner, who defeated incumbent Democratic Gov. Pat Quinn last November.
The GOP Establishment's consultant class quietly (and sometimes publicly) mocked Rauner for reaching out to traditional Democratic voters, including inner-city minorities, many of whom endorsed and subsequently voted for him. Rauner, who PPD accurately predicted would win, proved the talking heads wrong.
But Paul has thus far lined up almost the entire Kentucky delegation behind him, including Senate Majority Leader Mitch McConnell. Reps. Justin Amash, R-Mich., Raul Labrador, R-Idaho, and Mark Sanford, R-S.C., will also be supporting Paul and will even appear with him at rallies this week.
The camp will try to maximize their unique fundraising potential that blends moderate-to-big money with grassroots "money bombs," an effective tactic used by his father. In the weeks following his announcement, Sen. Cruz raised roughly $4 million.