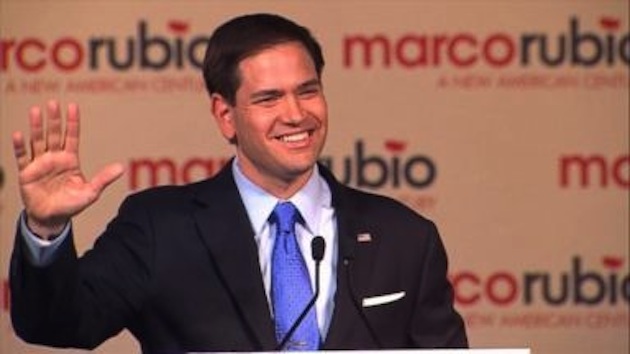 At the Miami Freedom Tower on April 13, 2015, Florida Sen. Marco Rubio announces he is running for president and will not seek another Senate term.
Read Rubio's Closing Arguments Below:
I recognize the challenges of this campaign, and the demands of the office I seek. But in this endeavor as in all things, I find comfort in the ancient command to, "Be strong and courageous! Do not tremble or be dismayed, for the LORD your God is with you wherever you go."
I have heard some suggest that I should step aside and wait my turn. But I cannot. Because I believe our very identity as an exceptional nation is at stake, and I can make a difference as President.
I am humbled by the realization that America doesn't owe me anything; but I have a debt to America I must try to repay. This isn't just the country where I was born; America is the place that changed my family's history.
I regret my father did not live to see this day in person. He used to tell me all the time: En este pais, ustedes van a poder lograr todas las cosas que nosotros no pudimos.
"In this country, you will achieve all the things we never could."
On days when I am tired or discouraged, I remember the sound of his keys jingling at the front door of our home, often well past midnight, as he returned from another long day at work. When I was younger, I didn't fully appreciate all he did for us, but now as my own children grow older, I fully understand.
My father was grateful for the work he had, but that was not the life he wanted for his children. He wanted all the dreams he once had for himself to come true for us. He wanted all the doors that closed for him to be open for me.
My father stood behind a small portable bar in the back of a room for all those years, so that tonight I could stand behind this podium in the front of this room.
That journey, from behind that bar to behind this podium, is the essence of the American Dream.
Whether or not we remain a special country will depend on whether that journey is still possible for those trying to make it now:
The single mother who works long hours for little pay so her children don't have to struggle the way she has…
The student who takes two buses before dawn to attend a better school halfway across town…
The workers in our hotel kitchens, the landscaping crews in our neighborhoods, the late-night janitorial staff that clean our offices … and the bartenders who tonight are standing in the back of a room somewhere…
If their American Dreams become impossible, we will have become just another country. But if they succeed, the 21st Century will be another American Century. This will be the message of my campaign and the purpose of my presidency.
To succeed on this journey, I will need your prayers, your support, and ultimately, your vote. Tonight I am asking you to take that first step with me, by joining us at marcorubio.com.
My wife Jeanette and my four children are here tonight. The next 19 months will take me far from home. I will miss watching Amanda run track, Daniella play volleyball, Anthony play football and Dominick play soccer.
But I have chosen this course because this election is about them. Theirs is the most important generation in American history. If we can capture the promise of this new century they will be the freest and most prosperous Americans ever. But if we fail, they will be the first generation of Americans to inherit a country worse off than the one left for their parents.
The final verdict on our generation will be written by Americans not yet born. Let us make sure they record that we made the right choice. That in the early years of this century, faced with a rapidly changing and uncertain world, our generation rose to face the great challenges of our time.
And because we did, there was still one place in the world where who you come from does not determine how far you can go.
Because we did, the American miracle lived on.
And because we did, our children and theirs lived in a new American Century.
Thank you, God bless you, and God bless the United States of America.