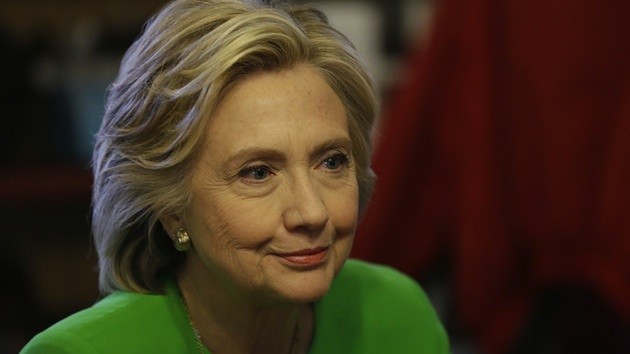 Speaking in Iowa Wednesday, former Secretary of State Hillary Clinton lied yet again regarding her family history, and offered a familiar excuse for it. BuzzFeed first noted that Clinton said all her grandparents had immigrated to the United States, but according public census and other records related to her maternal and paternal grandparents, that's not true.
"All my grandparents, you know, came over here and you know my grandfather went to work in lace mill in Scranton, Pennsylvania, and worked there until he retired at 65. He started there when he was a teenager and just kept going," Clinton said while arguing in favor of cheap labor from immigration.
Clinton's paternal grandfather, Hugh Rodham Sr., was actually born in England and immigrated to the United States (legally) with his parents in the late 19th century. However, the rest were born in Pennsylvania and Illinois. Her campaign offered a very familiar excuse: It's not really a lie if you really believe it.
"Her grandparents always spoke about the immigrant experience and, as a result she has always thought of them as immigrants," a Clinton spokesman said. "As has been correctly pointed out, while her grandfather was an immigrant, it appears that Hillary's grandmother was born shortly after her parents and siblings arrived in the U.S. in the early 1880s."
This isn't the first time Hillary has told whopper.
The story of her paternal grandmother, specifically, is one Clinton has told before — in detail. Clinton's sole foreign-born grandparent, Hugh Rodham Sr., immigrated with his parents as a child.
Hillary Clinton in 2014:
My grandmother on my father's side, Hanna Jones Rodham — by the way, insisted on using all 3 names despite what people in Scranton, Penn. might have thought at the time ― was one of those tough Methodist women who was never afraid to get her hands dirty. She traced her Methodism back to the Wesley brothers themselves, who converted her great grandparents in the small coal mining villages of Southern Wales. She immigrated with her family as a young girl to Scranton and went to work — very young―in a silk mill, and then she met and married my grandfather, who had also come to this country as a young man from the coalmining area in Newcastle, in England. He'd been laboring in the nearby lace factory since he was 13. They worked hard, they kept the faith, they lifted themselves up into the middle class, they brought property; and my grandmother Hanna managed the tenants and collected the rent. I have vivid memories of her final years when she was going blind, still braiding my hair in the morning, still reciting old hymns and giving me the direction for what I was to do that day. The world had changed so much during her lifetime, but it's also changed during ours.
Perhaps it would be unfair to hold her accountable for not knowing the timing and place of her grandparents birth, because Mrs. Clinton apparently can't even remember the timing of her own birth.
While taking a clearly-needed break from the rigors of being a first lady in 1995, she escaped to remote Tiger Tops Jungle Lodge in Katmandu. Later, she got to meet with Sir Edmund Hillary, who is the first person to reach the summit of Mount Everest. She claimed her mother, who was pregnant in 1947, named her after the former beekeeper who went on to Wow the English-speaking world with his incredible feat.
"So when I was born, she called me Hillary and she always told me, 'It's because of Sir Edmund Hillary,'" Hillary Clinton reported.
Except, of course, Sir Edmund Hillary didn't reach the summit of Mount Everest until June 1953, six years after Hillary was born.
A grown woman not knowing the difference between a family story, or a pathological liar who will tell whatever story that particular audience wants to hear?