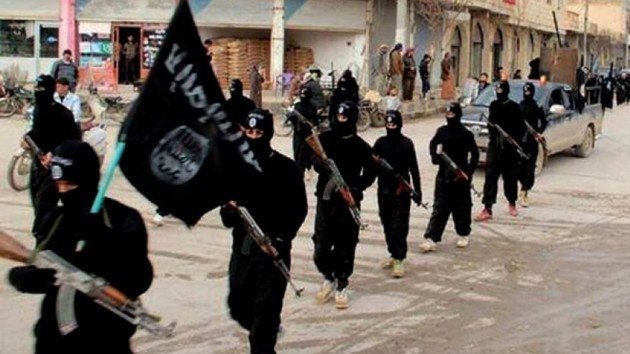 U.S. Special Operations Forces killed notorious ISIS leader Abu Sayyaf and captured his wife in an overnight raid in eastern Syria, National Security Council spokeswoman Bernadette Meehan confirmed.
Abu Sayyaf was a senior ISIS leader whose roles included overseeing illicit oil and gas operations — two key revenue streams for the terror group — also was allegedly involved with the group's military operations.
The Pentagon said there were no U.S. casualties during the operation that represents a stark contrast from the U.S-led air strikes on ISIL militants in the region. Sayyaf died in the firefight.
Umm Sayyaf, the wife, whom U.S. intelligence officials suspect also was an ISIS member and played an important role in terror activities, was after capture taken for questioning to a U.S. military facility in Iraq. The special forces operation also led to the freeing of a young Yezidi woman who appears to have been held as a slave by the couple.
The chain of command that led to the operation is a bit blurry, as of now.
The White House said President Obama authorized the operation as soon as he and his national security team developed sufficient intelligence and were confident the mission could be carried out successfully. Yet, Defense Secretary Ash Carter said he ordered U.S. Special Operations Forces into Syria's al-Amr region to capture Sayyaf and his wife.
Syrian state media earlier reported that government forces killed at least 40 ISIS fighters, including a senior commander in charge of oil fields, in an attack Saturday on the country's largest oil field — held by ISIL. The report identified the commander as Abu al-Teem al-Saudi.
There were also rumors that the supreme leader of the group, Abu Bakr al-Baghdadi, was severely injured or paralyzed in a coalition airstrike over a month ago, but the Pentagon would not confirm those accounts. The group's media outlet, al-Furqan media, published an audio message purportedly from al-Baghdadi, during which he called on supporters around the world to join the fight, whether in Syria and Iraq or to take up arms in wherever nation they may live in.
"Islam is a religion of war," the ISIS leader purportedly says in the audio. "There is no excuse for any Muslim not to migrate to the Islamic State… Joining (the fight) is a duty of every Muslim. We are calling on you to either join or carry weapons (to fight) wherever you are."
The Britain-based Syria Observatory for Human Rights confirmed an oil field attack, saying at least 19 ISIL members, including 12 foreigners, were killed. The group did not say who carried out the attack.